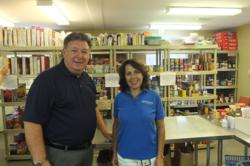 We encourage all of our employees, as well as the general public, to give back as much as possible
PALM HARBOR, FL (PRWEB) June 19, 2013
Nationwide Title Clearing, Inc. (NTC), a leading service provider for the residential mortgage industry, regularly takes part in Tampa Bay initiatives—as part of its extended corporate social responsibility practices, NTC has taken steps to ensure that Palm Harbor children are fed during the summer months. NTC recently held a food drive wherein employees donated nutritious kid-friendly items to the Food Emergency and Services Team (F.E.A.S.T.), a local organization serving residents of North Pinellas County and provides meals to children aged 18 and under.
Over the month of May, approximately 100 NTC employees donated over 300 pounds of food to the F.E.A.S.T. food bank. The food collected was specifically to fill a need for school-aged children to have lunches provided for the summer season. NTC employees generously donated 282 various items, including granola bars, single-serve spaghetti and peanut butter. In addition to the food, staff members also contributed cash donations.
NTC is joining the Tampa Bay community in taking large steps to combat child hunger—Hillsborough County Public Schools are continuing its annual Summer Food Service Program for Children at all schools with extended school year programs. The summer program is much like the school lunch program, in that it provides a nutritionally balanced meal to children when school breakfasts and lunches are not available. Anyone 18 years old or younger can get a breakfast and lunch at no charge, regardless of whether they are enrolled in the school's summer program (1).
Nationwide Title Clearing, Inc., CEO John Hillman regularly discusses with his staff the impact that a large company such as NTC can make on the local community. Hillman believes that despite servicing national clients in a niche industry, maintaining a strong connection to the local community and providing necessary help for initiatives that support children is a must for businesses his size.
"We encourage all of our employees, as well as the general public, to give back as much as possible," said Hillman. "We wholeheartedly believe in the concept of 'paying it forward'."
NTC has over 350 local employees, many of whom are active volunteers, and has been committed for years in helping the Tampa Bay region with its involvement in blood drives, food drives and toy drives, as well as other charitable efforts.
F.E.A.S.T., located at 2255 Nebraska Avenue in Palm Harbor, is a non-profit 501-C3, nondenominational food bank that has been serving the residents of North Pinellas County for over 25 years. F.E.A.S.T. is currently helping over 1,800 families each month, and serves Tuesday through Friday from 9:00 a.m. to 12:00 noon. For more information, visit http://www.feastfoodpantry.com/.
To learn more about Nationwide Title Clearing, including its mortgage post-closing services and document processing, visit http://www.nwtc.com.
About Nationwide Title Clearing, Inc.
Based in Palm Harbor, Florida, and founded in 1991, Nationwide Title Clearing, Inc. (NTC), is a privately-owned leading service provider to the residential mortgage industry, serving mortgage lenders, servicers and investors, including eight of the top 10 residential mortgage servicers in the country. NTC earned the position of #2,730 on the 2012 Inc. 5000 list of fastest-growing private companies in America, ranking #36 in Tampa and #46 in the real estate industry. The company's land records and document experts are able to track and fulfill county document requirements for close to 3,600 recording jurisdictions nationwide. NTC specializes in providing land records research, lien release services, assignment services, final document tracking, document retrieval and other custom business solutions. For more information, visit the company's website at http://www.nwtc.com.
1.Hamett, Yvette. "Summer Food Programs Feed Hungry Kids throughout Hillsborough." Tbo.cm. The Tampa Tribune, 04 June 2013. Web. 07 June 2013. tbo.com/brandon/summer-food-programs-feed-hungry-kids-throughout-hillsborough-20130604/.