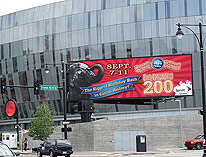 Lenexa, KS (PRWEB) June 17, 2013
Furthering its mission to deliver comprehensive energy-saving solutions, Worldwide Energy has formed Odegard Sign & Lighting, LLC to operate a full service sign and exterior lighting service in the Kansas City area.
"The combination of skilled personnel, high-reach capability, sign and energy efficiency expertise, along with expanded technical resources, will allow us to deliver a more complete set of services to all of our clients," said Gaylen Davenport, president of Worldwide Energy, Inc.
Odegard Sign & Lighting (http://www.odegardsign.com) provides a full range of services related to interior and exterior on-premise signage, including sales, installation, and service. Their capabilities include monument signs, channel lettersets, raceways, LED Digital reader boards, digital gas pricers, flat panel signage, pylon signs, interior message monitors and signage, architectural signs, awnings, large scale banner signage, parking lot lighting installation and maintenance, lighting maintenance programs, energy efficient lighting and much more.
"We are committed to providing our customers with quality workmanship in a timely manner, and at a competitive price," said Davenport. "Through this acquisition, we are able to provide even more efficient service to our current and future clients. More importantly, our mission to improve energy efficiency for businesses now extends to their on-premise signage."
Odegard will operate from Worldwide's expanded facilities in Lenexa, and can be reached at 913-642-SIGN (7446).
###
Worldwide Energy, Inc. (http://www.worldwideenergy.com) provides custom energy solutions including efficient lighting, mechanical and process systems, solar and wind energy systems, and alternative fuel conversion. This includes the ability to design and certify efficiency projects to meet the DOE's requirements and provide the comprehensive tax support package necessary to secure tax incentives, as well as procuring all available utility incentives. As the single point of responsibility, we ensure our clients' complete satisfaction.