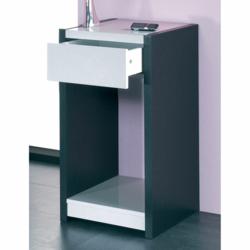 (PRWEB UK) 16 June 2013
FurnitureInFashion, one of the leading suppliers of affordable furniture in the UK, is offering the new range of console tables at a price 3 times lower than Tesco. The console table (tesco) of this range is also being offered by Tesco but at a triple price of £148.04. FurntiureInFashion however, is offering the same table at an unbelievably lower price of £59.95. FurnitureInFashion is keeping in tradition with its affordable prices and offering console tables at a price three times lower than Tesco. As the company uses reliable German manufacturing processes, the quality and durability is ensured.
FurnitureInFashion offers the most extensive range of console tables. These tables are available in different materials including wood, oak, glass, chrome, marble, and gloss finish. Sario console table of this new range is one great addition to an affordable catalogue of console tables at FurnitureInFashion. The Sario range of console tables offers a collection of pieces that can be put together to tailor the setup of various rooms. Sario console table is available in black oak finish with high-gloss drawer. The top of this console table is high-gloss that resists scratches and burns, which make this table very durable. It has a lower shelf suitable for all purposes and has a gloss white finish. This table can ideally be used for snack and coffee.
With a width of 42cm, height of 74cm, and depth of 40cm, Sario console table can add an elegant finishing touch to any room. With its elegant black oak finish and the MDF support for sturdy build, this console table is capable of adding value and style to any home setup. This table is a great blend of value, price, and stylishness.
The Managing Director and CEO of FurnitureInFashion said, "FurnitureInFashion specializes in providing contemporary and modern furniture at affordable prices. The company always had a motive to offer reasonable prices to all its customers. Even though the company has faced recession and economic turndown, FurnitureInFashion remained committed to offering lower prices for products. This console table is evidence of FurnitureInFashion's low price strategy. The company has taken over Tesco, as far as the pricing structure is concerned. FurnitureInFashion now offers cheaper furniture compared to Tesco without compromising on quality and durability."
He further added, "FurnitureInFashion is offering value at affordable prices in terms of this console table. The company advises the customers to compare the prices of products before placing an order with a company. As FurnitureInFashion offers the most affordable prices for furniture in the UK, the customers must compare prices on the website of FurnitureInFashion."
FurnitureInFashion has been in business for the past 5 years and claims to be the largest supplier of affordable furniture. The company is slowly taking over most of its competitors in terms of prices. It also maintains above 90% furniture in stock, unlike many other competitors, including Tesco.
To have a look at quality affordable console tables online, and to place a pre-stock order, please visit the company website today at http://www.furnitureinfashion.net. The range of console tables on the website is huge, delivery is fast, savings are massive, and quality is guaranteed.
About FurnitureInFashion
FurnitureInFashion is a UK-based online retail business. It supplies furniture items from its German-based warehouse and has a showroom in Bolton, UK. The company provides everything from umbrella stands, wall art and room dividers, to bedroom suites, bar stools, and computer tables. FurnitureInFashion offers free delivery within UK and is rightly proud of its excellent customer service. For further information and details about sales, please visit http://www.furnitureinfashion.net