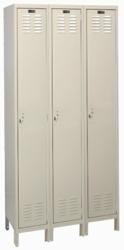 Boston, MA (PRWEB) June 20, 2013
Lockers for Schools are available at A Plus Warehouse. A Plus Warehouse is introducing Inexpensive Lockers for schools. Unlike competitors that claim to sell cheap lockers, A Plus Warehouse believes this word is demeaning and prefers the word inexpensive. This however does not mean that the lockers are bad quality. A cheap locker suggests bad quality where as a inexpensive locker does not.
Lockers are needed for schools. If a customer is looking for inexpensive school lockers they have come to the right place. Lockers are a necessity for any school system. When a child comes to school in the morning, the child needs a place to put his or her jacket and books. This is where an A Plus Warehouse locker comes into the picture. Without lockers students are forced to carry their bags, causing back pain. At school, a child should be learning and becoming a productive member of society. If a child is too busy worried about his or her back pain the child will not make the most out of the schooling experience.
Customers will love A Plus Warehouses Inexpensive Locker Line. As stated earlier, just because this line is the least expensive line of lockers A Plus Warehouse offers, it does not mean quality is sacrificed. The door has a 16 GA construction. These lockers also include one double prong ceiling hooking and two single hooks. There are also different options with this line as well. A customer can choose to order in single columns or 3 columns wide. It is also available KD or set up. A customer can also choose between the colors grey and beige. These lockers can also be Single Tier, Double Tier and Triple Tier. The reason that these lockers are less expensive is because it has a single point through the door friction catch door pull which is designed for use with padlocks as opposed to the traditional recessed handle lockers which A Plus Warehouse of course also offers. If a customer is looking for that more traditional look, A Plus Warehouse highly suggests the Premier Locker line. Also, if a customer is looking for a very attractive look, a step up from the Premier Locker Line is the Wood Locker line. In that line a customer has a choice of Hybrid Wood and Metal or Pure Wood for a bit extra. Customers should order Inexpensive School Lockers at A Plus Warehouse today.
A Plus Warehouse is the operator of http://www.apluswhs.com and distributes materials handling and storage equipment nationwide and throughout Canada. The sales staff at A Plus Warehouse is available at 800-209-8798. A Plus Warehouse has been in constant operation since 1996.