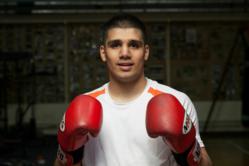 (PRWEB UK) 15 June 2013
FurnitureInFashion, one of the leading suppliers of contemporary and modern furniture in the UK, is pleased to sponsor a bright and upcoming UK boxing talent, Muhammad Ali. This is going to be the first time that FurntiureInFashion will sponsor a rising sports talent. The company has a reputation for offering all home solutions under one roof at the most affordable prices. FurnitureInFashion takes keen interest in promoting talent and contributes in all social events in order to represent UK in the best possible manner. Keeping this tradition alive, the company is now sponsoring Muhammad Ali to represent UK in the boxing world.
Muhammad Ali is a bright upcoming boxing talent in the UK and hopes to achieve titles for the UK. He is fighting at 69 kg welterweight. Although Muhammad Ali is still a student, his keen interest in boxing has made him come this far. Till now, Muhammad Ali has participated in various boxing championships and claimed several titles. He participated in North West senior region championship 2012-2013 and became the champion. He was senior runner up North rest v Midlands (2012-2013). He is also a 2013 British Universities & College Sport Champion. Till now, Muhammad Ali has had 17 fights out of 6 have been knockouts. Currently, Muhammad Ali is studying Sport Studies with Physical Education at Edge Hill University. He is also receiving a scholarship from the University for winning a national title. His immense potential is definitely going to help him become a sports star in the future.
After the sponsorship deal was finalized, Muhammad Ali said, "My ambition is to represent England internationally. I may never deliver the heights that the true Legend Muhammad Ali did, but I will certainly try my utmost to live up to his name."
Muhammad Ali further shared his plans and said, "On June 20th, I am boxing in the Haringy Box cup. This tournament is very significant for me as this was the cup where Chris Eubank's son fought and turned professional. My plan is to enter ABAE championships in coming September and October. I am also indulging in different boxing shows and my main aim is to win maximum titles for my country."
He further added, "My main aim is to box for England. I want to represent Great Britain not only at national level but international level as well. I still have a year to take up boxing professionally as I have to complete my education along."
The Managing Director and CEO of FurnitureInFashion on this occasion said, "FurnitureInFashion has always tried to support people and society in several ways. The company has helped many small businesses grow and establish sustainable growth through affiliation. Similarly, FurnitureInFashion feels honored and takes pride in supporting Muhammad Ali in his dream of becoming a successful boxer for the UK. FurnitureInFashion represents UK and sponsoring Muhammad Ali will be an honor for the company. Although Muhammad Ali is still on the initial stage of his career but his potential seems very promising. The company wishes luck to this bright talent of UK and hopes to see him winning more national and international titles in the future"
To have a look at quality affordable furniture online, and to place a pre-stock order, please visit the company website today at http://www.furnitureinfashion.net. The range of home furniture on the website is huge, delivery is fast, savings are massive, and quality is guaranteed.
About FurnitureInFashion
FurnitureInFashion is a UK-based online retail business. It supplies furniture items from its German-based warehouse and has a showroom in Bolton, UK. The company provides everything from umbrella stands, wall art and room dividers, to bedroom suites, bar stools, and computer tables. FurnitureInFashion offers free delivery within the UK and is rightly proud of its excellent customer service. For further information and details about sales, please visit http://www.furnitureinfashion.net