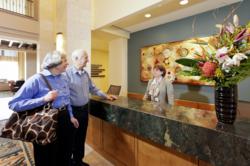 We like to keep in touch with residents while they are gone, and letting them know what is happening at home is one way we do this. - Stacy Shimp, Vi at Silverstone Conicerge
Chicago, IL (PRWEB) June 17, 2013
Summer's here, and it's a time that many Vi residents hit the road, take to the skies, or set sail. Stacy Shimp, Concierge at Vi at Silverstone, works with residents to arrange for housekeeping, security, and deliveries when they travel. She offers these suggestions for travelers who haven't yet made the move to Vi:
1. Help friends and family reach you. Let a trusted friend or relative know how to reach you: Leave your mobile phone number, email address, and vacation address or itinerary with a trusted neighbor, friend or relative.
2. Make sure your home looks lived in. Use timers to turn on and off lights in your home, keep a radio playing, and ask a neighbor to use your trash bins as well as their own on garbage collection day. Consider hiring someone to mow your lawn during your absence, if you don't already use a lawn service.
3. Stop mail and deliveries. Stop mail delivery at usps.com/holdmail/welcome.htm. Ask a neighbor or friend to stop by your house to look for unexpected packages and pick up newspapers and flyers from your mailbox or front step.
4. Close down your kitchen. Finish perishable foods, turn off icemakers and water coolers, and throw out garbage.
5. Don't forget your car. If you plan to leave your car at home, make sure it's parked safely and kept out of the sun and away from extreme temperatures, which can damage paint and weaken tires. At Vi, residents with indoor valet parking can arrange to have valets start and run their cars periodically. Consider asking someone to drive your car on a short errand once a week while you are gone.
6. Gather contact information for a home maintenance emergency. At Vi, we provide regular maintenance, housekeeping and landscaping. If you arrange these services for your own home, take contact information for your regular plumber, electrician, and handyman with you on your trip. In case of an emergency, a neighbor or house sitter can alert you to needed repairs, but you won't have to scramble to find phone numbers or websites for your trusted service people.
At Vi, we make it easy for residents to "lock and leave" - our concierge in each community works with residents to coordinate housekeeping, security, maintenance and mail and package delivery while our residents travel. We also work to welcome residents home, and stay connected while they travel.
"If a resident will be traveling for a long time, I will ask if I can send them our community newsletter and calendar of events," says Shimp. "We like to keep in touch with residents while they are gone, and letting them know what is happening at home is one way we do this."
Learn more about the services and amenities available at Vi communities.
About Vi
For more than 25 years, Vi has blurred the line between retirement and resort. Our continuing care retirement communities (CCRCs) provide refined environments, upscale living, service and amenities and the option for care should you need it. Founded in 1987, Vi currently operates 10 CCRCs nationwide. Find out more about Vi today.