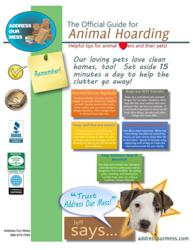 Address Our Mess... recently started an initiative to help hoarders become better organizers, maintain sanitary homes, and live happier, healthier lifestyles.
Mount Laurel, New Jersey (PRWEB) June 14, 2013
According to the Animal Protection of New Mexico's recently published articled entitled, Companion Animal Hoarding Fact Sheet, animal hoarding is, "the pathological collecting of animals…most often categorized by an individual amassing a large number of companion animals, failing to provide them with proper food, water, shelter, veterinary care, and sanitation, resulting in squalid living conditions for both animals and the hoarder."
Address Our Mess, an expert and industry leader in hoarding and clutter cleaning services, recently started an initiative to help hoarders become better organizers, maintain sanitary homes, and live happier, healthier lifestyles.
Address Our Mess' technicians have published a series of tools and guides to help hoarders with their everyday deep cleaning projects. Their latest publication, the Official Guide for Animal Hoarding, is a unique, easily accessible, and helpful tip sheet that breaks down the cleaning process in five easy categories.
Dust and Vacuum Regularly
A staple in a typical home, dusting and vacuuming does wonders for sanitation. Dust and dirt are harbingers for mites, bugs, parasites, and bacteria. As an animal owner, neglecting to dust and vacuum allows the accumulation of pet dander. Pet dander can cause severe allergic reactions in humans as well as carry tics and fleas, making those who come into contact with it susceptible to illnesses like Lyme Disease.
Bugs are NOT Friends!
Bugs, rodents, and other pests should not be welcome in the home. These creatures not only carry dangerous - and potentially deadly – diseases. They also have the ability to ruin property and valuables. Flies, cockroaches, rats, mice, squirrels, and other critters belong outside of the home.
By failing to clean up after messes – like food, dirty dishes, pets using the bathroom inside the house, garbage – a hoarder will attract bugs and other creatures.
It is extremely important to the health of the hoarders' family and their pets that sanitary conditions be kept at all times.
Feces and Urine are Waste!
One of the many frequently asked questions about hoarding is, "Why hire a biohazard certified company for hoarding cleanup?" The answers can be quite shocking.
As is often the case in many animal hoarding situations, animal feces, urine, and vomit can be found inside the home. Not only do animal hoarders allow their pets to defecate and urinate in the home, they also tend not to clean up after the mess.
Feces, urine, and vomit carry numerous types of bacteria, pathogens, and allergens that can prove deadly to those exposed to it.
Keep It Neat and Tidy
Address Our Mess have uncovered extreme hoarding cases in the past where homeowners and pets had actually been trapped and suffocated to death under fallen heaps and piles of clutter.
In order to create a safe environment for pets and family members alike, budgeting 15 minutes every day to clean and tidy up will work wonders for the sanitation and safety of a home.
Pets like a clean, neat space to live too.
Keep Outdoors Clean and Beautiful!
An animal's natural habitat is outdoors. Even domesticated cats, birds, reptiles, and other pets like to wander around the yard from time to time.
Keeping a well-kept yard, garden, patio, or sunroom is just as important as keeping it clean inside the house. By leaving grass uncut, shrubs untamed, and debris scattered about, pets can encounter deadly hidden dangers.
Address Our Mess' Guide to Animal Hoarding, along with the Official Do's and Don'ts Guide for Hoarders and Decluttering Tips, are available to anyone seeking help with trying to conquer the hoarding condition in their life or in the life of a loved one.