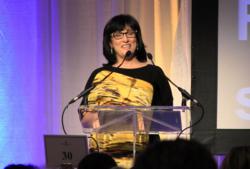 The people who really make it in life are not afraid of failure. They are those who try hardest to be the best that they possibly can be, just for the delight and personal satisfaction of rising above a challenge
Dublin, Ireland (PRWEB UK) 14 June 2013
Cpl CEO, Anne Heraty has been honoured as one of Ireland's top 25 most powerful business women at the 2013 WXN awards held last night at the Four Seasons Hotel. The Women's Executive Network is the largest community of powerful and successful women from Ireland and Canada.
The organisation is comprised of passionate businesspeople who are dedicated to celebrating and supporting the recognition and achievements of female executives in the workplace. The WXN provides its corporate partners and members with the opportunity to be recognised as employers of choice and leaders in developing progressive workplaces based on diversity.
Anne was among three award recipients within the Entrepreneur category and she was fulsome in her praise of the WXN organisation. "I'm delighted to be part of celebrating the terrific women who are being honoured here tonight. I have to say, I loved this event last year and I met so many fantastic people. It's great to be involved with WXN, it's an excellent organisation and I have to say well done to Pamela Jeffrey and her team and thank you for such a fantastic evening".
Anne paid tribute to the support of her family, her husband Paul for inspiring her to establish Cpl in 1989 and in particular, the empowering influence of her Mother. "My mother trusted me to make my own choices and believed in me to make the best of my life and that to me is the very definition of empowerment. I believe that deep down, empowerment is about connecting to your own innate, infinite power and energy. It's about being the best every day for the sheer personal challenge and joy of doing it".
She went on to highlight the importance of making well informed choices and not being afraid of failure. "The people who really make it in life are not afraid of failure. They are those who try hardest to be the best that they possibly can be, just for the delight and personal satisfaction of rising above a challenge. Failure after all is a myth, there is no such thing as failure".
This marks the second consecutive year in a row that Anne has received the Entrepreneur accolade and consequently, she has now been inducted into the prestigious WXN Hall of Fame and has become a member of the WXN Advisory Board, joining the following group;
Orlaith Blaney, CEO, McCann Erickson
Fionnuala Croke, Director, Chester Beatty Library (Chair)
Mary Davis, Managing Director, Special Olympics Eurasia
Maeve Donovan, Former MD, The Irish Times
Ann Fogarty, Head of Off Shore and KAG Fund Operations, BNY Mellon Fund Services' Operations Ireland; Managing Director, BNY Mellon Fund Services Ireland Ltd.
Ellvena Graham, Chief Operating Officer, Ulster Bank
Pamela Jeffery, WXN Founder
Liz O'Donnell, Former Government Minister and Public Affairs Consultant
Terence O'Rourke, Former Managing Partner, KMPG. Board member - The Irish Times
Sally Storey, Vice President and General Manager at GlaxoSmithKline