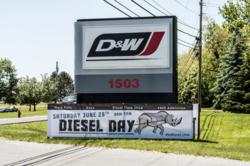 (PRWEB) June 16, 2013
D&W Diesel will be hosting its first Diesel Day on Saturday, June 29th. The event features a dyno run, truck pulls and a diesel pick-up truck show. D&W will exhibit its full product lines of diesel engine components, truck & tank equipment, industrial products and will be selling performance powertrain products such as downloaders, exhausts, turbochargers and modules at special discounted prices. The event starts at 9:00am with free admission.
Local vendors and Bully Dog, a manufacturer of performance products, will also join D&W for the event. Food will be sold by the Aurelius Fire Department throughout the day. D&W's service center will be open for on-site installation of performance products and facility tours will be given. The truck pulls, held by Shootout Productions, feature three classes: Pro Street Diesel, Street Legal Diesel and Work Stock Diesel and will begin at 3:00pm.
D&W is encouraging people to arrive early as parking space is limited. Registration for the Diesel Pick-up Truck Show will open at 9:00am and fun awards will be given. The Dyno will run throughout the day, $80 for three runs with papers. Music will be provided. Visit http://www.dwdiesel.com for more information.