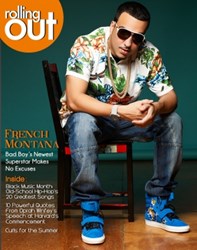 You outwork, out-hustle, out-rap, do whatever. You just go hard.
Atlanta, GA (PRWEB) June 14, 2013
It's not often you'll find two hip-hop power players willing to settle for half of anything. When it comes to rapper French Montana, born Karim Kharbouch, that's exactly the case.
He's inked a joint deal with Sean Combs' Bad Boy Records and Rick Ross's Maybach Music Group. With his just released debut 'Excuse My French,' Montana felt it was the best way to make sure everyone knew that he was committed to the two industry heavyweights that were most committed to him. "It was important for me to sign a joint venture because both of those people looked out for me when I was coming up. And in dealing with somebody like Puff and Ross, I feel like I can't go wrong. They'll be able to hold me down."
During the interview with rolling out's New York-based music editor Todd Williams, French Montana addresses the dating Trina and absentee father rumors, and what it's like to live in a third world country.
Visit rollingout.com to read the interview in its entirety and get all the details about the chanteuse. Be sure to check out the exclusive photo shoot and video footage with celebrity photographer Keith Major.
About rolling out Magazine:
Rolling out, the nation's largest free urban weekly, is a digital and print magazine that focuses on the black experience in response to entertainment, politics, fashion, culture, sports and lifestyle points of interest. Headquartered in Atlanta, rolling out is positioned as the voice for the African American experience, using its newspaper as a platform in the marketplace to express urgency for education reform, and to document entrepreneurial endeavors and other relevant issues in the Diaspora. For information on rolling out, please log on to rollingout.com.