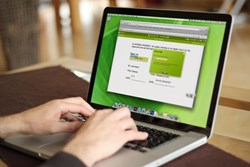 With the online process, they were able to have their documents notarized from their home in France over the internet in a matter of minutes.
Richmond, VA (PRWEB) June 14, 2013
Trustmark Certification Services (TCS), the leader in secure online notarization, celebrated a milestone yesterday when it facilitated the first ever digitally notarized deed to be officially accepted for recording purposes in the United States. An American couple living in France used online web conferencing with TCS to notarize a property deed with the Circuit Court of Alexandria in Virginia.
"It would have taken this couple a full day to travel to the American embassy in Paris to get access to an American notary," said Timothy Reiniger, the e-notary for the transaction and CEO of TCS. "But with the online process, they were able to have their documents notarized from their home in France over the internet in a matter of minutes."
Reiniger and the American couple used an online web conferencing solution with audio and video capabilities to complete the e-notarization process, which used technology from SIGNiX, the leading provider of secure digital signatures.
This significant milestone was made possible by Virginia's digital legal framework, which is unmatched by any other state. The transaction was fully compliant with Virginia's electronic notarization law, which put specific requirements in place for e-notarizations. Virginia is the first and only state in the country to authorize online e-notarizations in this manner.
Reiniger said SIGNiX's technology is ideal for the digital notary process and complies with Virginia law in three important ways:

Provides a secure, standards-based digital signature and electronic seal for signing
Confirms the signer's identity using knowledge-based authentication
Provides document security in the form of strong tamper evidence that can be verified independently of SIGNiX
"The traditional notary system just doesn't work for mobile customers that want to be able to complete business online, and TCS has acted as the leader in driving critical change to the industry," said Jay Jumper, president and CEO of SIGNiX. "This is a big first step toward modernizing the notary process, and we can't wait for more states to pass legislation in favor of e-notarization."
To request a demo of the product, please contact Timothy Reiniger at 804-525-2944.
About Trustmark Certification Services
Trustmark Certification Services (TCS) offers patented digital signature technology combined with deep legal and notarial expertise to transform the existing paper notarization process into a fully on-demand system. The TCS service will enable electronic home closings, refinancings and other transactions requiring notarization.
About SIGNiX
SIGNiX, headquartered in Chattanooga, Tenn., makes signing documents online safe and secure. SIGNiX offers the only independently verifiable cloud-based digital signature solution, which combines convenience with top-level security. SIGNiX's products help the world's leading companies become more efficient, decrease risk and boost profits.