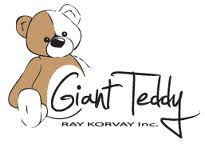 We were excited to see one of our bears in a starring TV role, that's always fun.
SANTA ANA, CALIFORNIA (PRWEB) June 17, 2013
Tonight's episode may be a rerun of CW's "The Carrie Diaries" but you should be warned of excessive violence if the sight of teddy bear fluff turns your stomach. Beloved Bear Bear, a stuffed giant panda, is slashed and beheaded as a teen romance goes bad. The show is written as a prequel to "Sex in the City," featuring the high school Carrie Bradshaw (Annasophia Robb) and her family, friends, and plenty of teen angst. This episode, "Read Before Use," originally aired in January, but is a fan favorite.
Carrie's friend Maggie (Katie Findlay) tries to say goodbye to both her boyfriend and her image as a drama queen. Looking over memories of her shattered romance, the sight of Bear Bear, the giant panda bear she got along with her first kiss from boyfriend Walt, sets off a fire storm of emotional venting, and poor Bear Bear bears the brunt of it as she slashes and maims him.
Surrounded by bear fluff carnage, Maggie realizes maybe she is a drama queen, and rushes Bear Bear to medical aid in her remorse. Carrie's younger sister Dorrit (Stefania Owen) does her best to stitch up the giant teddy bear as the two compare their problems.
Asked for comment on the episode featuring one of his bears, Giant Teddy President and CEO Ray Khorsavi said, "We were excited to see one of our bears in a starring TV role, that's always fun. We've been surprised how many production companies for television and movies have contacted us about our giant teddy bears – we are considering a Bear Paw Walk of Fame in our office." Khorsavi went on to joke, "We were okay with this one, since our panda bears know how to do their own stunts!"
Khorsavi says that the pandas are part of the Xin (pronounced "Shin") family of bears for his company, and that the name means "heartmind" in Mandarin. That seems appropriate for the role this panda played, in the clashing of Maggie's teen heart and mind.
The adventures of young Carrie Bradshaw and her cohorts will continue, as "The Carrie Diaries" has been renewed for the CW 2013-14 season, scheduled to air Fridays at 8 pm.
About Giant Teddy
Giant Teddy was founded in California in 2007 by Ray Khosravi and specializes in giant teddy bears with unique personality and hand-designed characteristics. For more information or to order a personalized teddy bear, please visit http://www.GiantTeddy.com.