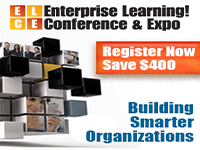 (PRWEB) June 14, 2013
The Enterprise Learning! Conference & Expo (ELCE), hosted at the Anaheim Convention Center, August 26-28th, 2013, announced Dan Pontefract, Senior Director of Learning & Collaboration at TELUS and author of "Flat Army," will Keynote at the ELCE Luncheon Monday, August 26th.
In this Keynote titled "Flat Army – Creating a Connected and Engaged Organization," Dan Pontefract shares what it takes to create a leadership culture that drives engagement, empowerment and encouragement among continued execution. Society is awash with social technologies; employees want to be included in the conversations and decisions; and management is sorting out how teams should operate with tradition leadership models despite the new and technology sophisticated social world order. The command-and-control management practices of yesterday don't apply to the new flat, connected and engaged army.
Session attendees will learn how to:
>> Identify key attributes for the connected leader;
>> Recognize learning at the speed of need and how to effectively integrate new technologies; and
>> Create a strategic leadership development plan to engage, empower and connect with employees.
In its sixth year, ELCE provides attendees a roadmap to Build Smarter Organizations. Executives can access more than 60 educational sessions and six tracks and another 60 sessions and eight tracks from the California HR Conference.
ELCE registration is now open. Save up to $400 by registering before June 15th, 2013. To learn more about attending ELCE, visit http://www.elceshow.com. For sponsorship or exhibitor information, contact sales(at)2elearning(dot)com.
About Enterprise Learning! Conference & Expo
In its sixth year, Enterprise Learning! Events bring onsite and online audiences together to learn, network and share. Enterprise Learning! Conference & Expo is the exclusive learning and workplace technology marketplace occurring on August 26-28th, 2013 in Anaheim, CA. ELCE hosts the Best of Elearning! Awards Luncheon and Learning! 100 Award Dinner. The Enterprise Learning! Conference & Expo Virtual edition is slated for October 3rd, 2013. For more information about the Enterprise Learning! Conference & Expo visit http://www.elceshow.com.
About Elearning! Media Group
Elearning! Media Group is owned by B2B Media Group LLC and consists of eleven media products including: Elearning! Magazine, Government Elearning! Magazine, e-magazines, e-mail newsletters, Alerts, Web sites, Web seminars, the Enterprise Learning! Summit and Enterprise Learning! Conference & Expo. Elearning! Media Group serves the $160 billion enterprise learning market. Suppliers and practitioners can follow us: online at http://www.2elearning.com, http://gov.2elearning.com; on Twitter: @2elearning, #ELCE13, #ELSummit; via Facebook: Elearning!-Magazine or LinkedIn: Elearning! Magazine Network or Enterprise Learning! Events.