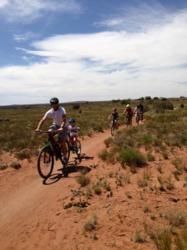 San Francisco, CA (PRWEB) June 14, 2013
Sierra Club Executive Director Michael Brune and his family are hitting the road to launch the organization's new Our Wild America campaign. The campaign will build on the Sierra Club's historic work to protect nature, redoubling efforts to save America's wild places for everyone to explore and enjoy. During the two week trek across the western United States the Brune family will visit many places desperately in need of protection and talk to an array of local community leaders about how to save our wild legacy and re-energize people to go out and enjoy all our public lands have to offer.
"Now is the time to intensify our traditional land conservation work. Pollution, mining, drilling and fracking are encroaching on our some of our last remaining wild wonders and our society is becoming increasingly disconnected from nature at a time when climate disruption is making it more important than ever to be expanding our conservation legacy," said Sierra Club Executive Director Michael Brune.
Healthy, protected natural areas are essential for communities to survive the effects of climate disruption. These wild places provide clean air and water for American families, protection from floods and fire, home for wildlife, and adventures that help support the $646 billion outdoor recreation economy. Whether it's a park down the street or the wide open range, protected public lands are a vital part of our shared American identity.
As part of the Our Wild America campaign the Sierra Club will strive to permanently protect amazing areas still at risk, block the rush to expand dirty fuel development in special places, save our forests, and ensure that people of all backgrounds, living in all parts of the country have accessible opportunities to experience nature.
The Brune family will stop at sites in Utah, Colorado, New Mexico, and Arizona to celebrate the benefits of permanent protection and explore areas still at risk. Full schedule below.
"I want my kids to experience the wonders of these places and see first-hand the value of preserving them for everyone to enjoy," said Brune.
You can follow the trip online.
Schedule:
June 11- Utah, proposed Greater Canyonlands National Monument
June 13- Colorado, Browns Canyon
June 17- Colorado, Chimney Rock National Monument
June 18 - New Mexico, Rio Grande Del Norte National Monument
June 20- Arizona, Grand Canyon National Park and the proposed Grand Canyon Watershed National Monument
June 26 - Washington, DC, Great Outdoors America week
###