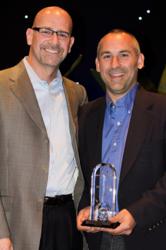 Placentia, CA (PRWEB) June 20, 2013
Chad Meisinger received the Infinitely Beyond Award from Convene, the premier Christian CEO and Business Owner forum organization, at their 8th annual CEO Summit held recently in Dallas, Texas.
Selected from hundreds of members, Convene's Infinitely Beyond Award recognized two outstanding members this year for their extraordinary life's work centered on service to God and building exceptional businesses based on Kingdom values. The award is named from a scripture recognizing that God's plans and power are greater for us than we can imagine:
"Now glory be to God, who by his mighty power at work within us is able to do far more than we would ever dare to ask or even dream of—infinitely beyond our highest prayers, desires, thoughts, or hopes." Ephesians 3:20 TLB
Recipients have gone above and beyond in their businesses, communities and ministries. Each recipient is nominated by their peers and then their qualifications are reviewed and validated to confirm their exceptional service.
Chad Meisinger, a former Google executive, is considered a top player in the Internet evolution. He is the founder of Over The Top Marketing, among other start-ups, and a key executive and principal at dMarc, a high-tech communications firm that eventually sold for $1.2 billion to Google.
"Chad serves the Lord through his businesses." said Matthew Fullerton, Convene Chairman. "He even remodeled his cigar retail business to allow for a large bible study. This group has grown over the years from a few to over 60 participants. The Lord is working powerfully in this bible study with men coming to Christ and many men getting closer to God as a result of Chad's presence and his gift of this space. "
"A few years back," Fullerton continued, "Chad got inspired by another Convene member to visit the Philippines. He was touched deeply by the poverty and desperate need of many of the children there. As a result he started an operation to help provide love, shelter, education, and employment for kids rescued from a multitude of evils there in the Philippines. Chad recently took his whole family back to the Philippines and all came back changed by the experience, closer to each other and closer to God than ever before."
Founded in 1996, Convene is a national peer advisory organization of Christian CEOs and business owners meeting together to help each other build exceptional businesses, become higher-impact leaders, and honor God through the principle of "iron sharpening iron." Learn more about Convene here: http://www.convenenow.com.