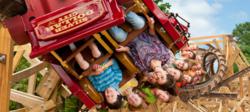 Springfield, MO (PRWEB) June 15, 2013
Silver Dollar City just debuted the world's first and only double barrel roll on a wood coaster "Outlaw Run". So, PFI and Silver Dollar City have teamed up to look for brave girls and boys to take down the Outlaw.
When you stop by PFI, before heading to the National KidsFest (June 9th-July 21st), kids ages 4-11 will receive an official badge and a certificate rewarding them $15 admission + tax (regularly $48 and admission is limited to visits on Sunday-Thursday during the promotion).
Plus, PFI will provide a $10 PFI gift card so they will be dressed to take on the bad guys.
Families that post their visit to Silver Dollar City and Outlaw Run on Facebook have a chance to be selected as PFI's Outlaw Run family. The winners will receive an outing during Silver Dollar City's National Harvest Festival and the Salute to the Great American Cowboy (September 12-October 26).
So come to PFI Western Store, a MUST see stop on the way to Branson, MO. Just 35 miles north of Branson on Highway 65 and Battlefield Road in Springfield, Mo. For more information, CLICK HERE
------------------------------------------------------------------------
Fun facts about "Outlaw Run" at Silver Dollar City:
•World's first and only double barrel roll on a wood coaster: 720- degree, double barrel roll.
•World's steepest drop on a wood coaster: a 16 story drop at 81 degrees, nearly vertical.
•World's only wood coaster to twist upside down with a record breaking three inversions.
•Second fastest wood coaster in the world: Top speed of 68 mph, world's fast coaster on steel wheels.
Did you know that PFI is....
•America's Western Store covering over 50,000 square feet.
•Over 25,000 cowboy boots.
•PFI's Saddle City has the largest saddle and tack anywhere.
•PFI's Big Spur Hat Company has 1000's of hats to choose from.
•Sample PFI's Family Farms specialty cheese, salsa and coffees in PFI's Diamond Annie's.