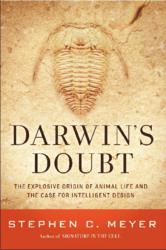 Meyer's book is a game changer for the study of evolution and points us in the right direction as we seek a new theory for the origin of animals.—Dr. Mark McMenamin, paleontologist at Mt. Holyoke College and coauthor of The Emergence of Animals
San Francisco, CA (PRWEB) June 17, 2013
"When Charles Darwin finished his famous book, he thought that he had explained every clue, but one."
So begins DARWIN'S DOUBT: The Explosive Origin of Animal Life and the Case for Intelligent Design (HarperOne; Hardcover; June 2013) by Dr. Stephen C. Meyer . Building upon the provocative argument about the origin of life presented in his previous book SIGNATURE IN THE CELL, Meyer now tackles what is arguably one of the most controversial aspects of the theory of evolution: the "Cambrian Explosion," or the rapid appearance of animal life 530 million years ago.
In his On the Origin of Species, Darwin himself acknowledged a conundrum—fossil records document a sudden appearance of life within a remote period of geologic history, but there is no evidence of simpler ancestral forms in the earlier sedimentary rock layers below. If the theory of natural selection were to stand, he puzzled, how could this gap in the evolutionary chain be explained?
In DARWIN'S DOUBT, Meyer takes readers through the history of life itself, revealing what scientists have learned since Darwin's time. He also explains how the Cambrian period is remarkable not only for the appearance of new biological forms, but for the appearance of new biological information. And he poses an important question: could the information necessary to build the Cambrian animal forms have arisen from an intelligent cause, rather than an undirected natural process?
This highly debated issue is at the heart of some of the most controversial conversations today. And as the debate rages over the validity of Creationism vs. Darwinism, Meyer argues that an alternate theory—Intelligent Design (ID), which holds that certain features of the universe and of living things are best explained by an intelligent cause, not an undirected process such as natural selection—is ultimately the best explanation for the origin of the Cambrian animals, along with the libraries of information needed to produce them.