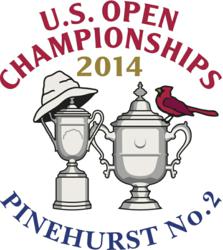 Far Hills, NJ (PRWEB) June 14, 2013
Tickets for the 2014 U.S. Open and U.S. Women's Open Championships, conducted by the United States Golf Association (USGA) and scheduled for June 9-22 at Pinehurst Resort & Country Club (Course No. 2) in the Village of Pinehurst, N.C., are now on sale.
This is the first time the U.S. Open and the U.S. Women's Open Championships will be held in consecutive weeks on the same course. The USGA has conducted both the U.S. Open and the U.S. Women's Open previously in the Sandhills of North Carolina. The U.S. Open will be contested on Pinehurst No. 2 for a third time and the first since 2005; the U.S. Women's Open has been held three times at nearby Pine Needles Lodge & Golf Club in Southern Pines, most recently in 2007.
Another first for next year's national championships is a Series ticket package option that includes access to VIP parking within walking distance of the course and a total of 14 tickets: one ticket for each day of the U.S. Open Championships (June 9-22).
A variety of additional weekly and daily ticket options for both national championships are available for purchase:

Trophy Club tickets: Trophy Club tickets include access to the grounds of Pinehurst No. 2, as well as the Trophy Club, an on-site, air-conditioned pavilion with live U.S. Open television coverage. Enhanced food and beverages may be purchased at an additional charge.
Gallery tickets: Gallery tickets provide access to the grounds of Pinehurst Resort & Country Club (Course No. 2) and access to all concession stands throughout the course.
Weekly packages: Each ticket type can be purchased as a week-long ticket package. All U.S. Open weekly packages include a playoff ticket for Monday, June 17 (if needed).
All daily tickets and weekly packages purchased include complimentary parking and transportation to and from the parking area and the championship entrance.
With 27 consecutive sellouts for the U.S. Open Championship through 2013, next year's championships promise to generate strong interest.
Ticket orders will only be accepted on USGA websites at http://www.usopen.com or http://www.usga.org/tickets or if received via a mailed application. Questions or a request for a printed application can be directed via e-mail to ticketquestions(at)usga(dot)org or by calling 1-800-698-0661.
Junior tickets are always available on-site at will call and at all admission gates during the championship. Juniors age 12 and under will be admitted free of charge any day when accompanied by an adult ticket holder. Tickets for juniors age 13 to 17 will be available for purchase at a reduced rate. There is a maximum of two junior tickets per one adult ticket holder. Junior tickets permit Trophy Club access only when accompanied by an adult Trophy Club ticket holder.
Tickets will also be available for military personnel. On site during practice round days for the U.S. Open (Monday, June 9 through Wednesday, June 11), active military personnel receive complimentary Gallery tickets and retired personnel can purchase Gallery tickets at a reduced rate of $25 per ticket.
Pinehurst No. 2 has hosted nine USGA championships since 1962. Most recently the famed course was the venue for the 2008 U.S. Amateur, won by Danny Lee. In 2005, Michael Campbell edged Tiger Woods by two strokes to win the U.S. Open on Pinehurst No. 2. The 1999 U.S. Open at Pinehurst provided one of the most dramatic finishes in history when Payne Stewart sank an 18-foot putt for par on the 72nd hole to top Phil Mickelson by one stroke.
About the USGA
The USGA conducts the U.S. Open, U.S. Women's Open and U.S. Senior Open, as well as 10 national amateur championships, two state team championships and international matches. Together with The R&A, the USGA governs the game worldwide, jointly administering the Rules of Golf, Rules of Amateur Status, Equipment Standards and World Amateur Golf Rankings. The USGA's working jurisdiction comprises the United States, its territories and Mexico.
The USGA is a global leader in the development and support of sustainable golf course management practices. It serves as a primary steward for the game's history and funds an ongoing "For the Good of the Game" charitable giving program. Additionally, the USGA's Course Rating and Handicap systems are used on six continents in more than 50 countries.
For more information about the USGA, visit http://www.usga.org.