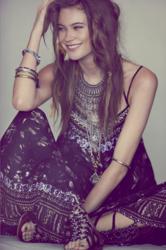 Philadelphia, PA (PRWEB) June 17, 2013
Specialty clothing brand, Free People, is set to open its 83rd boutique at Westfield Fashion Square in Sherman Oaks, CA on June 21st, 2013. At 3,400 square feet, the store will be the market's largest of 11 locations in the L.A. area. Free People is sure to make a great addition to the shopping center's roster, bringing free and easy apparel that the brand's L.A. fans have proven to love so much.
On Thursday, June 20th from 6pm-8pm, top customers and media will be invited to shop the new location before doors officially open to the public. The first 50 people to arrive will receive a 'Summer Survival Kit' with sunglasses, sunscreen, and sea salt hair spray. One lucky bag will also carry a $100 Free People gift card. Other festivities include the chance to win a free juice cleanse from Nektar, strike a pose in the FP Me photobooth, and dance away to DJ Halston Lux. Refreshments will be provided by Dry Soda.
The increase in square footage allowed for the Free People store design team to curate a variety of concepts within the new space, while remaining tied together through a 'Boho Bungalo' theme. The approach represents Free People's globe traveling girl and the collections that she curates and displays within her environment. True to Free People's aesthetic, a custom built pergola embellished with carvings in a white painted finish is featured near the entrance. Continuing back through the long and narrow space, shoppers will find the Intimately Free People shop, a section dedicated to the brand's rapidly growing label of ever-popular intimates, lounge, and layering pieces.
"Westfield Fashion Square will be our largest footprint store to date in the L.A. market," says Beth Wehagen, Free People Director of Stores. "We are excited to be able to give our customer the opportunity to experience the Free People brand in fresh new ways, from beautiful displays to an expanded selection of merchandise."
Upon opening, the Sherman Oaks location will carry a large assortment of product, including handpicked items that are typically exclusively sold on http://www.FreePeople.com. Various collections, including flowing maxi dresses, tees, denim, and the brand's beloved rich colors and ethnic printed merchandise will be sold throughout. Easy knits that the FP Cali girl knows and loves will be strongly represented as well.
Each of the brand's boutiques has a full team of styling experts to help shoppers get a complete Free People look, but inspiration can also be found with Free People's online community, FP Me. This offers all Free People girls a way to share their personal style, create looks, curate collections, and connect with other FP fans. Shoppers in Sherman Oaks can now shop the website or new boutique and share their wears with a global fashion community through FP Me.
The store is located at Westfield Fashion Square, 14006 Riverside DR., Sherman Oaks, CA 91423. Store hours will be Mon-Sat 10am-9:00pm and Sun 11am-6pm. The store's telephone number will be (818)386-1056. Fans should also "like" the store on Facebook to stay up-to-date on all of the latest arrivals, events, and other happenings. (https://www.facebook.com/FreePeopleShermanOaks?ref=hl)
###
About Free People
Free People is a specialty clothing brand featuring the latest trends and vintage collections for women who live free through fashion, art, music, and travel. The bohemian look consists of quality apparel, shoes, and accessories that invoke attributes of femininity, spirit, and creativity with its design. Free People is distributed globally via direct channels, including the Free People US site and Free People UK site, as well as specialty boutiques, top department stores, and the brand's own free standing retail locations in the U.S. and Canada.
About Westfield Fashion Square
Westfield Fashion Square is a fashion-forward shopping center serving some of the Los Angeles area's most sophisticated communities, including Sherman Oaks, Studio City and Encino, as well as the Hollywood Hills, Brentwood and Bel-Air. The center serves the families and young professionals of its extremely diverse trade area. In addition to its flagship Bloomingdale's and Macy's, the center also features a fabulous collection of specialty retailers. Westfield Fashion Square is a true power shopping destination providing distinct experiences, family-friendly activities, top-rate amenities, as well as a newly renovated Dining Terrace and More http://www.facebook.com/westfieldfashionsquare