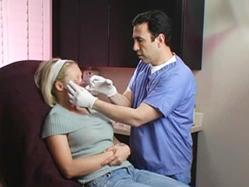 Los Angeles, California (PRWEB) June 15, 2013
According to a June 12, 2013 NBC News article, titled "7 Strange Plastic Surgery Procedures," there are a number of newer cosmetic surgery procedures that are designed to fine-tune specific areas. These procedures are gaining in popularity, though some consider these particular treatments frivolous or ill-advised (Go to goo.gl/VzAOG).
"I think it's unfortunate that these particular treatments are lumped together in this article," says Dr. Simon Ourian, Medical Director of Epione Beverly Hills. "Botox injections into the chin or neckbands is routine, injecting Botox into the calf to address an overly muscular lower leg isn't medically advisable."
According to the article, the term cankles refers to chubby calves that blend into the ankles. Plastic surgeons are now using liposuction to get rid of the extra leg fat. This surgery can cause pain and extreme swelling, as there is little fat, and many nerves and blood vessels in the calves. On the other hand, many women dislike the area above the knees. This liposuction procedure can be performed on an outpatient basis with little recovery time necessary.
One procedure that physicians quoted in the article don't advise is injections of dermal fillers like Restylane or Juvéderm, into the toes, heel, or ball of the foot in order to give extra padding. Also considered a bad idea are injections of Botox into the lower legs to address "radish calf."
"As I noted before, Botox injections to address a dimpled chin is fairly common and the physicians quoted in the article agree," says Dr. Ourian. "The same can be said for using Botox or Dysport to smooth lines on the neck."
Dr. Ourian has been a pioneer in laser technology and non-invasive aesthetic procedures including Restylane, Juvéderm, Radiesse and Sculptra. These treatments are used for the correction or reversal of a variety of conditions such as acne, acne scars, skin discoloration, wrinkles, stretch marks, varicose veins, cellulite, and others. More information about new plastic surgery treatments can be found on Epione's website.