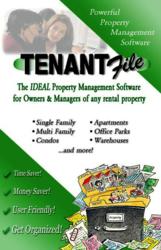 We always focus on improvement, simplicity, and great customer service
Austin TX (PRWEB) June 18, 2013
The Tenant File Property Management Software is now providing the following support services:

Two months of no-charge phone support for new customers
One month of no-charge phone support for customers that update their current program
Support provided for all customers that have one of the last three updates
Printed 'Quick Start' guide provided with every new purchase
Complete User's Guided provided with every product in PDF format
Training DVD with 10 lessons provided with every new purchase
Knowledge base for common questions provided on Tenant File website
Complimentary web-based support ticket system with 90% same day reply record
Fee-based training, phone, and remote support available Monday through Friday
Friendly customer support provided by a knowledgeable staff
With the 20 year anniversary of the Tenant File fast approaching, plans are underway to provide special offers to current and new customers as well. Thousands of small to medium size property managers and landlords have used the product for nearly two decades. Wayne Gathright, president, says "We are very fortunate to have the loyal customer base that we have. I think that the reason we have prospered through both good and bad economic times is that we always focus on improvement, simplicity, and great customer service".
While many other applications are dropping any personal service, the Tenant File has retained the philosophy that busy customers don't have the time to try to find the answer on the web - they want to talk with a qualified support representative. With that in mind, the Tenant File also has fee based support which includes personalized training, and 15 or 30 minutes phone calls. With this new system, the customer can order the support online, and the next available representative will call them back, usually within a matter of minutes. This system is available during regular office hours and incoming phone support is available from 10:00 a.m. to 2:00 p.m. daily.
If needed, support personnel can log in to the customer computer remotely to see the exact nature of the question and provide an answer faster than if the question has to be described over the phone. There is no extra charge for remote service other than the support call fee.
About the Tenant File Company:
By maintaining innovative technology, yet adding the security and speed of desktop software, the Tenant File Property Management Software remains a popular property management software for landlords. For more information, contact the Tenant File through their website at http://www.TenantFile.com.