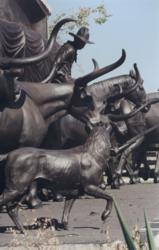 Duncan, OK (PRWEB) June 27, 2013
Duncan, OK's The Chisholm Trail Heritage Center will celebrate the National Day of the Cowboy on Saturday, July 27, 2013. The event will begin at 10:00 a.m. and end at 5:00 p.m. with free admission to the Red Bud Award Winner for Outstanding Attraction of 2012 in Oklahoma and will include family friendly activities for all ages. The theme this year is: "Black Cowboy: Tall Tale or Top Hand" celebrating the black cowboys' accomplishments during the Chisholm Trail Era to present. Also showing will be "African American Cowboy: The Forgotten Man" a short documentary by Victoria Lioznyansky.
Special guests will include Fred Whitfield, eight-time world champion tie-down roper from Hockley, Texas. Fred will be here to promote his autobiography, "Gold Buckles Don't Lie: The Untold Tale of Fred Whitefield". His autobiography is a classic American adventure story that begins when Fred's mother, Miss Marie, goes to work for the lady across the street as her maid in 1972. There, the lady's son introduces the 5-year-old to rodeo and it opens the door through which he will escape. Poverty and violence plague Fred's childhood, but the joy and hope he finds in rodeo are bigger than any obstacle in his path. Fred Whitfield overcame it all to become a cowboy-an amazing, delightful, tormented cowboy.
Fred will be selling and autographing his book for fans on July 27th. One of the greatest competitors ever in professional rodeo, Whitfield will go down in history as "the black one". Before him, only one black man won a gold buckle, Fred has won eight of them. He is a piece of Americana, a larger-than-life-warrior who, at forty-five-years-old, tells stories that only old men should remember. The walls went up early and through it all, Fred never told the full story until now – and what a story it is.
Wallace Moore, a professional reenactor from the Lawton area, will also be at The Chisholm Trail Heritage Center to promote his book, "Ebony Horse Soldier". "Ebony Horse Soldiers" tells the stories of the Buffalo Soldiers in poetic fashion. The book is written about the history of African Americans in the military during the Indian War period, a subject that has not been properly explored by the national media according to Wallace.
Come discover Duncan during the National Day of The Cowboy celebration at the award winning Chisholm Trail Heritage Center.
For further information, contact The Chisholm Trail Heritage Center or The Duncan Convention and Visitors Bureau.