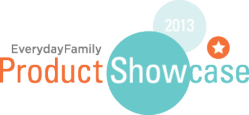 (PRWEB) June 17, 2013
EverydayFamily.com, the fastest growing online destination for moms of growing families, has officially launched the EverydayFamily Product Showcase, an innovative marketing program that will be viewed by millions of moms every month beginning June 2013.
EverydayFamily's 2013 Product Showcase is the first of its kind marketing campaign that seamlessly integrates editorial style reviews, solo emails and newsletters, integrated promotions, social media amplification, and a stand-alone product video page on EverydayFamily TV, which combine to deliver a powerful marketing vehicle to help increase sales by quickly building new customers.
"Due to the rapid growth and scale of our community, not every company can afford six-figure advertising campaigns with us", said Tony Golden, Chief Business Development Officer. "With that in mind, we really put our minds to creating a program that is both cost effective, and that will deliver significant marketing impact. The Product Showcase delivers well over $100,000 in advertising and promotions for a small fraction of that cost."
The first round of participating companies include Chariot Strollers, Little Twig, Boiron, Spill Spoiler and others. A second round of products will debut in the Showcase in early August and will run through 2014.
About EverydayFamily.com:
EverydayFamily.com (EF) is the leading online resource to a growing community of moms who share their own everyday parenting experiences with those seeking guidance and support as they move through their family's journeys, from preconception, to preschool and beyond. As the fastest growing destination for new and expecting moms on the web, EverydayFamily.com attracts over 1.3 million unique visitors monthly.
Delivering results for a majority of iconic brands in the new parent vertical, EF provides opportunities for sponsorship and creative integration that goes well beyond the run-of-site banner and weaves marketing messages as an uninterrupted part of the user experience.