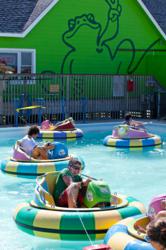 Peace begins with a smile. Peace Frogs yogurt makes you smile.
Nags Head, NC (PRWEB) June 14, 2013
What the world needs is positive, peaceful vibes. Peace Frogs expanded its operation to spread those good feelings this summer when it opened its first Peace Frogs Frozen Yogurt shop in Nags Head, NC
The shop, which features 12 non-fat yogurt flavors, toppings bar and Peace Frogs gear, is located in the bright green building beside Kitty Hawk Watersports Bumper Boats at Mile Post 16 on Croatan Highway.
To celebrate, on Thursday, June 20, Peace Frogs Frozen Yogurt will host a grand opening party for the community and beach goers.
The shop is open from 11 a.m. to 11 p.m.
Kitty Hawk Watersports Bumper Boats, located directly in front of the Peace Frogs Frozen Yogurt shop, will offer free bumper boats from noon to 4 p.m. Donations will be accepted to support the Outer Banks Relief Foundation.
A hot dog, kettle corn and peanuts vendor will be on site and will donate 20 percent of their sales from the event to the foundation.
Frozen Yogurt happy hour – featuring half off yogurt – will run from 4 to 6 p.m.
Aquatic volleyball in the bumper boats pool will kick off at 6 p.m.
Corn hole will be available throughout the day.
"We've believed for a long time at Peace Frogs—that you have to live fun, do good," said Peace Frogs President and Founder, Catesby Jones. "Peace Frogs OBX Frozen Yogurt believes that starts with you. With me. When you come to Peace Frogs Frozen Yogurt, we want you have fun. Laugh a little. Smile a lot."
Mother Teresa said peace begins with a smile.
And, Jones added, "Peace Frogs Frozen Yogurt makes you smile.
Learn more about the Peace Frogs Frozen Yogurt shop in North Carolina at http://www.peacefrogs.com/OBXYogurt.
About Peace Frogs:
Established more than 25 years ago by Catesby Jones, the Virginia-based Peace Frogs apparel company promotes positively peaceful living.
The apparel and gift products are featured online, in more than 800 specialty stores around the world and via an annual catalog. With 16 free standing stores and 20 licensees, the Peace Frogs brand grows in popularity each year.
For more information about Peace Frogs, contact Catesby Jones at catesby(at)mindspring(dot)com. To stay in touch with the Peace Frogs community, visit Peace Frogs on Facebook at PeaceFrogsCompany, on Twitter @lovepeacefrogs or Pinterest.