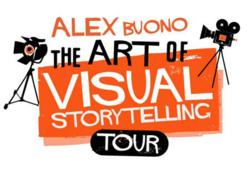 The giddy feeling I get when pushing HD video creation to its edge is like that moment you catch yourself before tipping over on the back two legs of a chair. Darryl Rode
Philadelphia, PA (PRWEB) June 19, 2013
"The Art of Visual Storytelling Tour," an intense educational workshop and overview of the artistic elements and core principles of cinematography taught by Oscar nominated cinematographer Alex Buono, will stop in Philadelphia, Pennsylvania, on Saturday, June 22, 2013.
The 31-city tour, which kicked off on June 3, 2013, will travel across the United States and Canada through August 4, 2013. Working in conjunction with Monte Zucker Photographic Education, Keystone Pictures will sponsor the Saturday, June 22, 2013, leg of the 31-city tour, to be held in downtown Philadelphia.
During the all-day workshop, Buono, whose resume includes 14 seasons as Director of Photography for the Saturday Night Live film unit, as well as work on big budget films such as "Twister," "Conspiracy Theory," and "Armageddon," will teach attendees advanced techniques for lighting, lens selection, blocking, camera movement, audio, workflow, camera settings, visual structure, and more.
"Before I was ever a DP, I was a camera assistant, where I had a chance to learn from legendary ASC cinematographers like Conrad Hall, Dean Cundey and John Schwartzman," says Buono. "They were so generous with their knowledge and inspired me to someday try to do the same. That's why I set out to design this full-day workshop that would teach the most important filmmaking lessons that I've learned over the years."
"Keystone Pictures prides itself on educational opportunities for the local film community," added Keystone Pictures president and co-owner Darryl Rode. "Having someone of Alex Buono's caliber come to our home base of Philadelphia is a unique opportunity for our local partners and aspiring filmmakers."
For more information about the event, visit: http://www.VisualStoryTellingTour.com.
About Keystone Pictures:
Located in Center City, Philadelphia, and incorporated in 1992, Keystone Pictures is a production company that specializes in both broadcast and corporate video, both locally and throughout the nation. In addition to having a talented team of in-house production crews, Keystone Pictures is also an in demand rental house, supplying everything from lighting and grip to full size High Definition fly packs and everything in between. Clients of Keystone Pictures have included NBC, CBS, CNN, the National Geographic Channel, Discovery Networks, Harpo Productions, Aetna, Cigna, Merck & Co., and more.