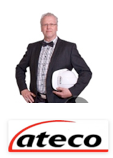 We are excited about Ateco's commitment to our club and we are looking forward to a long and mutually beneficial relationship for many years to come.
Oxford, UK (PRWEB) June 18, 2013
President of Oxford City FC Thomas Anthony Guerriero announced that Ateco (http://www.ateco.se) has become their first sponsor from Sweden in the club's long history.
Guerriero stated, "The Oxford name is an internationally recognized brand and at Oxford City FC we are focused on bringing global awareness of our club and the marketing opportunities we give to all our sponsors. We are excited about Ateco's commitment to our club and we are looking forward to a long and mutually beneficial relationship for many years to come. We are confident that we are progressively building the ideal platform at Oxford City to promote all our corporate sponsors' interests in Oxford from any country in the world."
Ateco will have their company logo prominently displayed on Oxford City FC kit for the upcoming season. This relationship marks an important extension of Oxford City Football Club, internationally. President of Ateco, Sven Hall stated, "We are very excited about becoming a sponsor of Oxford City FC. We feel strongly that Oxford City FC with Mr. Guerriero as President will be doing some remarkable things over the coming years and we are looking forward to being a part of this historic journey with them."
About Ateco
Ateco is one of the top boutique fire safety companies in the world. They specialize in customized fire alarm systems. With over 50 years of experience
in both security and security systems development and custom installations, Ateco is a leader in the field.
Ateco creates, develops, and manufactures products both from electronic development and mechanical development. Ateco is an international force with operations in Scandanavia, Europe, and in the US.
Safe Harbor for Forward-Looking Statements
This press release contains forward-looking statements within the meaning of Section 27A of the Securities Act of 1933, as amended, and section 21B of the Securities and Exchange Act of 1934, as amended. Readers are cautioned not place undue reliance on these forward-looking statements, which are only predictions and only speak as of the date hereof. Forward-looking statements usually contain the words "estimate," "anticipate," "believe," "plan," "expect," or similar expressions and are subject to numerous known and unknown risks and uncertainties. These risks and uncertainties could cause the Company's actual results to differ materially those indicated in the forward-looking statements. Investors are encouraged to carefully review regulatory filings prior to investment consideration. Past performance is no guarantee of future success or that there cannot be losses or business interruption. The Company is in a rapid growth sector that may or may not continue to grow in the future and therefore poses risks that may be different than other investments. Management regularly provides news and additional information believed to be true and accurate at the time of dissemination but has no requirement to modify, comment or change in the future should circumstance change or information prove to be inaccurate for any reason. Additionally, the Company makes every effort to comply with all applicable laws.