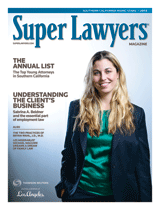 "...the center of multi-million litigation"
El Segundo, CA (PRWEB) June 14, 2013
Philip J. Layfield has been selected to the 2013 California's Rising Stars List. No more than 2.5% of the lawyers in every state are selected by Super Lawyers' research panel to receive this honor. This honor is awarded to lawyers 40 years old or younger or to those who have been practicing for 10 years or less who have displayed excellence in their field of law.
Philip J. Layfield has shown excellence in Personal Injury and Business Litigation cases in Southern California and beyond, being the center of multi-million litigation. From the start of his career in 1999 Philip has had the opportunity to litigate in all courts of California, as well as the United States district court for the Southern District of New York City, 3rd District Court in Utah and the United States Court of Appeal for the 11th Circuit. As a founder of The Layfield Law Firm, APC, Mr. Layfield supervises a strong team of attorneys, and acts as lead counsel in most matters of the firm.
Super Lawyers rates outstanding lawyers from over 70 practice areas. Each lawyer has attained a high degree of peer recognition and professional achievement. The annual selections are made using a patented multi phase process that includes a statewide survey of lawyers, an independent research evaluation of candidates and peer reviews by practice area. This results in a credible, diverse list of exceptional attorneys.
The Layfield Law Firm specializes in complex business litigation and catastrophic personal injury matters in California and across the country. The main office is located in El Segundo, California, with additional offices located in Santa Monica, Riverside, Palm Springs, Newport Beach, and Ventura. For inquiries, please contact Layfield Law offices at (800) 558-5679 or visit http://www.layfield-law.com.