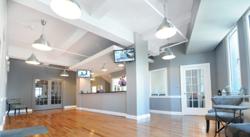 Love Where You Work!
New York, NY (PRWEB) June 27, 2013
Flexible office space has become an extremely popular concept for all types of companies…from start-ups to fortune 500 firms. Many companies find it beneficial not to commit to a long term lease desiring the flexibility that flexible office space affords them. Turn-key office space providers are growing very quickly in New York City where the number of flexible office space locations has more than doubled in the past 5 years.
Select Office Suites leads the pack in the Chelsea and Flatiron areas where they have more than tripled the number of office options in the past 2 years alone...and are in the process of doing it all over again! "We're told third time's a charm" stated Dominick Olivo, Director of Sales for Select Office Suites.
Select Office Suites is currently constructing their most recent expansion at their Flatiron location, with amazing views of Madison Square Park. "Demand has far exceeded our inventory so we just felt like we needed to add another floor of flexible office space to assist companies in this area", stated Dominick Olivo.
The new floor at 1115 Broadway, SW corner of 25th Street will be available early August 2013. This brings the total number of office suites at this location alone to well above 400.
Select has added over a dozen large team rooms and open areas to accommodate larger firms looking to house groups of 10-100 employees. The facility has over 20 meeting rooms, on-site cafés, 6 lounge areas with fabulous views of Madison Square Park...not to mention a full service espresso bar!
Select Office Suites offers a variety of creative office configurations to accommodate every need and budget...ranging from 1-3 person single offices, 3-10 person suites and team rooms, and open layouts for up to 100 people. Some of the amenities offered: on-site technical support, full time cleaning staff, on-site maintenance department, professional receptionist services, inbound/outgoing mail and many, many more.
We're told the networking events at Select Office Suites are fun-filled, and yield business opportunities and relationships.
For more information please call 212-710-2604 or visit http://www.selectofficesuites.com