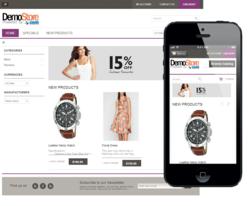 Our most important partnerships are in the hosting industry and no other event reaches the hosting industry better than HostingCon.
Atlanta, GA (PRWEB) June 14, 2013
Loaded Commerce, a provider of automated; profit-generating ecommerce solutions, today, announced they will be a gold sponsor of HostingCon 2013. The conference and trade show which showcases innovation, networking, learning and growth among web hosting and cloud professionals, will be held June 17-19, 2013 at the Austin Convention Center in Austin, TX. In addition to a gold sponsorship, Loaded 7 will offer a free phone charging station and product demos at booth 823 on the trade show floor.
"Our most important partnerships are in the hosting industry and no other event reaches the hosting industry better than HostingCon." said Salvatore Iozzia, Loaded Commerce Founder and CEO. "Sponsoring this event is a great way to let hosting providers know Loaded Commerce is committed to innovation and providing the richest most profitable and automated ecommerce solution in the industry."
"HostingCon is pleased to have Loaded Commerce as a gold sponsor," added Kevin Gold, HostingCon Chair and VP of Marketing at iNet Interactive. "They are a great example for the type of exhibitors at HostingCon who showcase innovative products and services to help web hosts and cloud services providers raise their game and achieve more success."
In that spirit of innovation, Loaded Commerce will unveil Loaded 7, the next-gen mobile responsive ecommerce solution. It includes a free basic edition and two upgrade versions that will help web hosts boost customer loyalty and grow a worry-free recurring revenue stream, which may include add-ons and customizations.
"Reselling Loaded 7 reinforces relationships with customers and allows web hosts to grow mobile-ready ecommerce on their platform, so revenue is not lost to a mobile-only provider or a competitor's hosted ecommerce solution," said Iozzia. "By making it easy to host mobile ecommerce in-house, we help web hosts be the ecommerce expert and platform of choice for customers."
Loaded 7's most attractive features beyond mobile responsiveness are a core code updater and server tools that make it easy for web hosts to keep Loaded 7 ecommerce solutions patched and secure. Other key features include an open source code base and an active community to help further growth, provide support and spread adoption.
"When you see Loaded7, it will be like nothing you have seen before. So many of the things we are doing will be facepalmingly simple when you see them in practice. It just takes experience and vision to pull it all together," commented Iozzia.
To coincide with the gold sponsorship of HostingCon and the launch of Loaded 7, Loaded Commerce has a special introductory offer for partners now through June 30. It includes free sponsorships in the Loaded community, increased affiliate commissions and deeper discounts for resellers. Holbi, oDesk, PayPal and BuySafe have already joined forces with Loaded Commerce as initial launch partners.
About Loaded Commerce
With over a decade of open source expertise and a commitment to providing the richest, most profitable, automated ecommerce solution, Loaded Commerce makes it easy to host mobile ecommerce in-house. They are poised to shake up the online and mobile ecommerce space with a combination of the right features, vision, and easy to use mobile responsive ecommerce, making it the perfect site-building platform for web hosts. To learn more visit http://www.loaded7.com/for-web-hosts.
About HostingCon
HostingCon is the premiere industry conference and trade show for web hosting and cloud services providers. In its ninth year, HostingCon brings the industry together including cloud providers, web hosts, multi-tenant data centers, colocation providers, infrastructure-as-a-Service (IaaS), platform-as-a-service (PaaS), ISVs and other infrastructure providers who make the Internet work to network, learn and grow. HostingCon is an iNET Interactive event. For details about HostingCon, visit http://www.HostingCon.com.