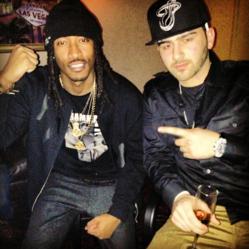 New York, NY (PRWEB) June 17, 2013
For some jewelers in the industry, custom commissions aren't pursued because of the difficulties associated with designing and producing such elegant and lavish pieces of jewelry. Unlike their competitors, the jewelers at Avianne & Co. welcome such challenges. Designing everything from traditional watches and rings to exceedingly intricate custom necklaces and pendants, the New York City-based jewelers welcome any and all custom orders, regardless of the concept's inherent complexity, cost, or difficulty.
This philosophy was proven steadfast and unwavering when rapper and record-producer Future commissioned the jewelers to design for him the Custom Freebandz Pendant, a large 18k yellow gold diamond circle pendant featuring brilliant round cut white diamonds. Customizable in white, yellow, and rose gold, and also in the invigorating black rhodium plating, the pendant's design was inspired by the hip hop artist's own record label of the same name.
Founded in 2011, Freebandz Records is a dynamic young record label imprint at the forefront of this generation's hip hop renaissance. While only a few years old, the label, which is backed by the international powerhouse Sony Music Entertainment's Epic Records, is poised to produce and release music by exciting new artists in the coming years, making it a significant project for the master craftsmen at Avianne & Co. Among the most coveted new additions to the Avianne collection, the custom diamond circle was produced for an undisclosed amount; however, interested patrons can call 888-243-4344 to speak with a dedicated sales representative about the Custom Freebandz Pendant as well as any other piece in the jeweler's gallery.