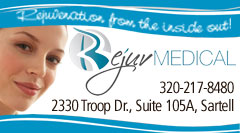 Our goal is to always get to the root of a patient's challenge or pain source, not to cover it up.
Minnesota (PRWEB) June 17, 2013
Dr. Joel Baumgartner is pleased to the announce the expansion of his practice, Rejuv Medical. Last month Dr. Baumgartner announced his plans to expand Rejuv Medical to promote patient wellness and accommodate the demand for his clinic's services. On Monday, June 17th at 5:30 pm, Dr. Baumgartner and his team will break ground on what will be the new 28,000 square foot medical clinic for Rejuv Medical.
"Rejuv Medical is the future of medicine. We employ exercise and nutrition and we combine these efforts with both traditional and forward-thinking medical procedures. By doing this, we are advocating the best outcomes for our patients. Our goal is to always get to the root of a patient's challenge or pain source, not to cover it up," said Dr. Baumgartner. "My company's philosophy has led to a great relationship with the Minnesota community. Their trust in us, and the betterment of their health, has led up to this expansion and the ability for us to build a new facility."
Rejuv Medical has spent the last four years providing medical weight loss, physical therapy, sports medicine, non-surgical orthopedic services, anti-aging medicine, and food sensitivity services to patients of all races, ages and health backgrounds within the Minnesota community. "This expansion will allow my qualified team to provide additional services and allow us to bring in even more highly-trained individuals to support our goal. We already provide affordable and comprehensive treatments. With this new building we can serve even more patients," finished Dr. Baumgartner.
Members of the media are invited to attend the groundbreaking ceremony which promptly starts at 5:30 pm. The ceremony will take place at 901 3rd Street North, Waite Park, Minnesota 56387. Interviews with Dr. Baumgartner may be scheduled in advance by contacting JR Burgess at 218-831-8080.
More information on Dr. Joel Baumgartner or Rejuv Medical can be obtained at http://www.RejuvMedical.com or by requesting a media kit from the company's Media Manager at Helene(at)JumpStartInk(dot)com.