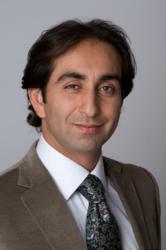 I have had great success in treating patients with chronic rhinosinusitis using Targeted Endoscopic Sinus Surgery, or even a balloon sinuplasty.
Beverly Hills, CA (PRWEB) June 17, 2013
An article published June 5th on Futurity explains a revolutionary new test aimed at finding the precise cause of a patient's chronic sinusitis symptoms. With well over 30 million Americans living with the frustrating and often painful condition, this new test promises to provide doctors with specific answers that will allow them to properly treat the patient.
"I see patients on a daily basis who have tried treatment after treatment with no relief for their sinusitis symptoms. Unfortunately, there are so many things that can trigger sinusitis that, until now, we have had very little way of knowing what the exact cause is. If we can determine that a patient has chronic rhinosinusits, we can treat them more effectively," said Beverly Hills otolaryngologist Babak Larian. MD, FACS.
The symptoms of chronic rhinosinusitis are incredibly similar to other conditions, like seasonal allergies, deviated septum, and bacterial infections, making it hard to identify. Recently, however, researchers have discovered that chronic rhinosinusitis is caused by rare white blood cells making their way into the mucus of the nose and releasing major basic protein, a toxic protein that damages nasal tissues and results in the symptoms of sinusitis. The new test tests patients' mucus for the harmful protein to determine the presence of chronic rhinosinusitis.
"This test will allow us to stop prescribing antibiotics to patients who do not actually have a bacterial infection and we can then focus on treating the real cause. It's exciting to know that just a simple mucus sample will be able to point us in the right direction," said Dr. Larian.
After visiting a specialist and testing for chronic rhinosinusitis, there are numerous options a patient may have, including endoscopic sinus surgery and balloon sinuplasty. Targeted Endoscopic Sinus Surgery™, pioneered by Babak Larian, MD, FACS in Beverly Hills, is a minimally invasive procedure in which the specific problem area is treated, leaving the surrounding tissue unharmed.
"I have had great success in treating patients with chronic rhinosinusitis using Targeted Endoscopic Sinus Surgery, or even a balloon sinuplasty. In a balloon sinuplasty procedure, a small balloon catheter is inserted into the sinus and inflated to open up the blocked passageway, thus restoring normal drainage to the sinus," explained Dr. Larian, expert sinus surgeon in Los Angeles.
Dr. Babak Larian is a board-certified otolaryngologist and a Fellow of both the American College of Surgeons and the American Head and Neck Society. He has considerable expertise in minimally invasive surgery, which has made him one of the most sought-after physicians in the industry. Dr. Larian currently holds the position of Chief of Head & Neck Surgery at Cedars-Sinai Hospital in Los Angeles and is Director of the highly acclaimed CENTER for Advanced Head & Neck Surgery in Beverly Hills.
For additional information or to learn more about the various types of sinus surgeries offered by Dr. Larian, please visit http://www.larianmd.com or call (310) 461-0300.