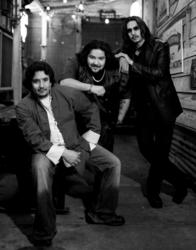 Modesto, CA (PRWEB) June 18, 2013
Since their debut in 2003, Los Lonely Boys has enjoyed a magical career arc, selling millions of albums, winning a Grammy, racking up reams of critical acclaim, opening for The Rolling Stones, and performing with such stars as Willie Nelson and Carlos Santana.
Now this American Chicano rock power trio will make their debut at the Gallo Center for the Arts at 7 pm on Wednesday, August 7. Comprised of brothers Henry, Jojo and Ringo Garza, Los Lonely Boys hails from San Angelo, Texas. The band plays a style of music they call 'Texican rock n' roll,' a combination of rock, Texas blues, brown eyed soul, country, and Tejano.
The band was originally scheduled at the Gallo Center on March 6, but the concert was postponed due to an injury to one its members. Tickets are $20, $30, $40 and $45, and can be purchased online at GalloArts.org, by calling (209) 338-2100, or at the Center's ticket office, 1000 I Street in downtown Modesto.