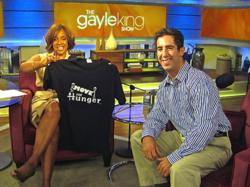 Our online reputation speaks volumes to our customers' satisfaction with this service.
Philadelphia, PA (PRWEB) June 18, 2013
Custom t-shirts and clothing maker, Printfly has recently completed their second office expansion due to increased business demands and clientele base. The US-based apparel company is an e-commerce site that combines the independence of web-based purchasing with individualized customer service to create a personalized shopping experience. In order to enhance that experience, Printfly employs highly skilled graphics artists to meet the need of their growing customer base. As the company continues to expand, the graphics department needed additional space to effectively continue to produce well-designed products for their clients. Chief Strategy Officer Ron Reed felt the expansion was essential for the company.
"Printfly is one of only a few leaders in the space that have dedicated in-house graphics departments. Our team of professional designers review every design we print, no exceptions." Reed stated. "Thanks to our volume and efficiency that come from a decade- plus of experience, we're able to offer this service for free, automatically, to all customer - big and small."
The graphics department is required to perform a professional design review on customer-submitted designs. Their job is to ensure that design details, colors, and products the customer has chosen will all work effectively together and to optimize designs for print against the specific item textures and colors selected by the online customer.
"Our Graphic Designers will analyze the design's color to ensure it will appear correctly on the chosen product; if there is an issue with the order, the designers will work towards finding the right combination to satisfy the customer," continued Reed. "Our online reputation speaks volumes to our customers' satisfaction with this service." He explained that after the designers have reviewed and optimized the design, the customer will receive a proof to approve of any variations Printfly has done. Based on customer feedback, clients enjoy the working with both the sales and graphics department.
Reed feels this expansion will attribute to the company's main goal of providing excellent customer service and high-quality products along with being another sign of rapid growth. The new space is a collaborative area that is very open and allows graphic designer to create new and enhance customer-submitted designs. According to Reed, Printfly does not plan to stop with just the graphic department's new office. The company will continue to expand and renovate their current location, and perhaps an entirely new space is in the near future.
About Printfly
Printfly.com is one of the leading online design studios for customize apparel. Their web-based company helps charities, colleges, universities, corporate companies, and even family reunions create individual shirts, hoodies, towels, and much more. Customers have access to enhanced design features such as arcing text, rotating images, adding an outline color, and over 50 fonts to choose from so you can create exactly what your event calls for.
To learn more about Printfly or design your own custom t-shirts, visit http://www.printfly.com/