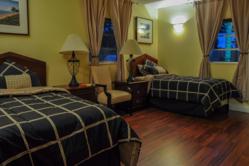 "If you or someone you know gets involved with these designer drugs, get immediate help before it's too late," said Robert Niznik, Harbor Village CEO.
Miami, Florida (PRWEB) June 19, 2013
According to Vanessa Grigoriadis, a contributing editor of New York Magazine, drug abusers called "psychonauts" are creating new designer drugs featuring psychoactive effects by changing existing ones based on their research of published documents and patented formulas. She reported her findings to news radio station Here & Now on June 4.
"Some of these drugs could have neurotoxic or even physiologic effects. They're never tested on humans. Maybe some of them are tested on rodents," said Grigoriadis.
It is because new designer drugs are untested and unknown, that they can pose unforeseen risks, which can cause injury up to and including death.
Harbor Village, located in sunny South Florida, is equipped to help clients dependent on designer drugs cope and recover in an upscale, 24/7 medically supervised, state-of-the art environment. Every client staying at Harbor Village, a professionally staffed detox center, is greeted by luxury accommodations including a beautifully furnished suite complete with television and headphones, an acre of scenic outdoor lounge area, salon, spa and massage services, acupuncture treatment, nutritious, gourmet dining and a personalized program designed for each client's specific problem.
Grigoriadis said the drugs are manufactured in China and shipped discretely to the United States to a buyer's PO box without anyone but the shipper and purchaser cognizant of the transaction. The packages contain the words, "not for human consumption" to avoid discovery of the contents.
The DEA has categorized many drugs as illegal, but these synthetic stimulants are technically not because they don't fit the agency's roster of illegal compounds. These types of drugs include "bath salts," which can cause psychosis, the "M-bomb series," which create LSD-like effects, and synthetic cannabinoids, with names such as UR 144 and PB 22. Those who manufacture and sell these synthetic stimulants have been very difficult for the Drug Enforcement Agency (DEA) to prosecute, but the agency is well aware that this is a growing problem in the United States.
"It is hard for juries to pass a judgment on a "weird compound that a professor in Berlin made ten years ago, and now somebody is manufacturing it in China and shipping it to the U.S. And it's not chemically similar to the drugs you already know," Grigoriadis said.
"These new designer stimulants are manufactured in unknown labs and then deceptively packaged and shipped to someone who never knows what they are putting into their bodies. If you or someone you know gets involved with these designer drugs, get immediate help before it's too late, said Robert Niznik, Harbor Village CEO.
The Obama administration has declared several synthetic cannabinoids illegal, but many more chemical compounds await discovery. Until then, this illegal drug trade, which has already reached 20,000 thrill seeking buyers, continues to spread.
For more information, visit: http://harborvillageflorida.com or call the 24/7 hotline
1-855-338-6900
Media Contact: 
Robert Niznik 
Harbor Village 
Miami, FL 
305-999-5728 
robert(at)harborvillageflorida(dot)com