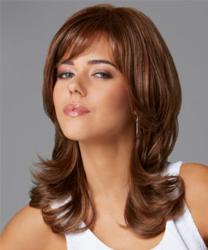 Los Angeles, CA (PRWEB) June 15, 2013
Purchasing a wig online can be a very difficult task. Wigsalon.com the first online wig shop knows this better than anyone else and has been seeking methods to accomodate their customers online since 1996. As a third generation business with roots going back over 40 years, WigSalon has a better understanding of what customers need in order to find the right wig.
The first solution WigSalon offers is a social network that was designed specifically for people who wear wigs. MyWigSpace.com gives women the opportunity to connect directly with other people who use wigs. The idea behind this is to create an outside source where people can find information, ask questions, & share looks with out any interference from wig companies.
Next they have a new Facebook page where industry news, wig styling guides, as well as guides to every day questions for people new to wigs. Topics covered range from simple things like how to wash your wig, to advanced styling of lace front and monofilament wigs.
Being located in Los Angeles, CA also gives WigSalon a closer look into what celebrities are doing with their hair and how you can change your look easily without commitment. Celebrity wig match ups, trending hairstyles and behind the scenes looks will be covered on WigSalon's new look book. Mobile users can find inspiration by following them on Instagram
The biggest trend right now in Hollywood would be Human Hair Extensions, celebrities use them to add length, volume, or highlights. Be sure to check out all the new social wig platforms to see what is happening, straight from the source WigSalon.com Los Angeles.
WigSalon.com
10867 W Pico Blvd.
Los Angeles, CA 90064
800-262-8437