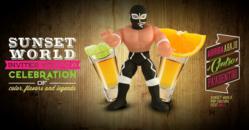 Mexico is an exceptional country, with its own history, traditions, intellect, music and folklore.
Riviera Maya, Q. Roo (PRWEB) June 14, 2013
Sunset World Resort & Vacation Experiences has organized the Sunset World Pop Culture Fest 2013, from June 16 to 21, in the Hacienda Tres Ríos Resort, Spa & Nature Park, offering an interactive experience that will celebrate the colors, flavors and traditions that are representative of Mexican culture's true spirit.
This grand festival, featuring the slogan Arriba, Abajo, al Centro y pa'Adentro!, has been organized in collaboration with Mundo Cuervo, one of the most famous tequila brands in the world, Mezcal Imperial, a young company investing in a 100% traditional, artisanal and Mexican product with the highest quality standards, the Tlaxcala Prehispanic Cuisine Delegation promoting pulque, the renowned Mexico Desconocido tourism magazine, Vamper Revolution and the Instituto Sperior de Estudios Creativos, which focuses on showcasing the roots, folklore and way of life of Mexicans through wrestling contests, tastings of traditional drinks such as tequila, mescal and pulque, culinary exhibitions, fashion, design and the celebration of popular festivities.
"Each year Mexico hosts more than 25 million international visitors, attracted by its history, folklore, cuisine and traditions, as well as its unbeatable climate and its spectacular beaches. Sunset World Pop Culture Fest is aimed at satisfying people's need to travel and discover new places, new cultures and ways of life," said Annie Arroyo, Brand and Communications Director at Sunset World, while emphasizing her desire to create events that generate new, unforgettable experiences for members and guests during their visit to the Mexican Caribbean.
The day time activities during this grand celebration will be free for members and guests while the general public will be able to obtain an "Enjoyment" Day Pass, valid from 9 am to 12 am, at a cost of 900 pesos, including access to the Hacienda Tres Ríos hotel, unlimited food and beverages and the chance to participate in different workshops such as wrestling, traditional Mexican games, photographic shows, culinary demonstrations, classes and tastings of different distilled drinks, all given by expert representatives from participating sponsors.
The decoration in the festival's different locations, recreating the atmosphere of old Mexico, has been designed by industrial design students from the Instituto Superior de Estudios Creativos, while fashion design students will exhibit gala dresses made of paper and traditional Mexican materials. The public can vote for their favorite dresses on the group's social networks, thus offering the students the chance to showcase their creative works to the world and rewarding their efforts.
To close in style, the 2013 Sunset World Pop Culture Fest's closing ceremony will take place on June 21 with a "cenaduría" (an informal collective dinner) style buffet dinner where different typical dishes can be savored in a traditional atmosphere. The main aim of the decoration is to represent the veneration of a saint, considered to be both patron and protector, reflecting the customs of some Mexican towns.
As part of the closing activities, there will be an open bar, dancing, folklore and a show with an authentic wrestling contest with 22 famous professional Mexican gladiators, such as Mr. Niebla, Huracán Ramírez, Pirata Morgan, Rhyno, Vamper and Sexy Flor. This celebration of Mexican culture will end at midnight with dancing and DJ music. There will be round trip transportation every day from Cancun for 150 pesos.
"Mexico is an exceptional country, with its own history, traditions, intellect, music and folklore. Mexican food, for example, is considered to be the third most varied cuisine in the world, after China and France, and due to the enormous cultural diversity and wealth that exists among its states some experts even say that the Mexican Republic is really made up of 32 different countries," pointed out Sunset World's Brand and Communications Director. For more information, please visit http://www.haciendatresrios.com/popculturefest.