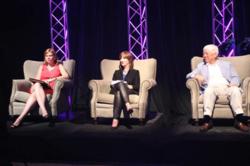 "We are now soliciting manuscripts for a second round of competitions, which we will host in May of 2014," CEO Steve Eisner.
Rochester, Vermont (PRWEB) June 19, 2013
Writer's colony When Words Count Retreat has created a new, fast track to successful book publication. The program, called "Pitch Week," is a twice-a-year, juried competition, in which authors of promise compete for a major book deal by demonstrating their book marketing, presentation and communication skills before a panel of book publishing pros.
The winner walks away with an unprecedented, one-of-a-kind publishing prize that includes:

A book deal with Select Books, a large Manhattan-based independent publishing house
Literary representation from the renowned Irene Goodman Literary Agency, also of New York, and
A national book-launch publicity campaign from Meryl Moss Media Relations, Inc., a Westport, Connecticut and New York-based literary PR firm, now celebrating its 20th year in business
Six finalists and one alternate already have been selected to compete in Pitch Week #1, scheduled to take place at the retreat, in late September. "We are now soliciting manuscripts for a second round of competitions, which we will host here sometime in May of 2014," says Steve Eisner, the retreat's CEO.
Pitch Week's judges include Kenzi Sugihara, CEO of Select Books; Rachel Ekstrom, a prominent literary agent with the Irene Goodman Literary Agency; and Meryl Moss, CEO of Meryl Moss Media Relations, Inc. Together, they will score the authors on the quality of their writing, the commercial appeal of their books and the authors' demonstrated knowledge and skill at promoting, pitching and marketing their works.
"In the exploding and intensely competitive world of book publishing today, it is essential that an author write the best book possible," says Moss. "Working with a professional team at every level, which includes editing and coaching, cover design, publicity and promotion, gives the author a better chance of success. I am excited to be part of a new book publishing initiative that acknowledges this reality."
Pitch Week is a by-invitation-only competition, limited to authors who have been guests at the retreat. To qualify, an author must:
Fill out an online application
Submit the first 20 double-spaced pages of an original fiction or non-fiction manuscript along with a one-page typed synopsis of the book (limit: one manuscript per applicant), and
Book a minimum 3-Day/2-night stay at the retreat between June 25 and September 15, 2013, the official Pitch Week Manuscript Review Period
Jon Reisfeld and Steve Eisner, the retreat's book coaches, will read and assess submissions in the order of the authors' arrival dates. (Authors must submit their applications and sample manuscripts at least two weeks prior to their arrival dates.) The coaches will share their findings, including guidance and constructive criticism, with the authors, in private, two-on-one consultations at the retreat. (This evaluation service, which normally costs $300.00, is being offered free of charge to Pitch Week applicants.)
"We hope to field at least 100 qualifying Pitch Week submissions during the evaluation period," Reisfeld says. "We will send the 25 most promising sample manuscripts onto the judges, who will review them and choose 12 semi-finalists." By mid-January 2014, the retreat will announce its choice of two alternates and six finalists to compete in Pitch Week 2.
Authors interested in learning more about Pitch Week will find details and sign-up links at the retreat's Pitch Week web page.
About the company: More than 150 authors and their guests have visited When Words Count Retreat since it opened in October, 2013. The retreat provides authors with total escape from daily chores and the chance to focus, exclusively, on their writing. When Words Count Retreat also offers highly productive two-on-one book coaching workshops in which Steve Eisner and Jon Reisfeld help authors improve their works and advance them toward submission. For more information, visit http://whenwordscountretreat.com.