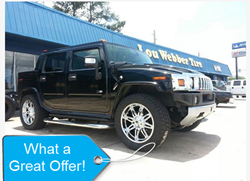 No hassle shopping and great deals is what OfferHubb delivers.
Jacksonville, FL (PRWEB) June 17, 2013
No pressure is how Lou Webber Tire and Automotive Inc (http://www.webbertireandauto.com) likes to do business and OfferHubb marketing allows them to do that well.
Currently at http://www.OfferHubb.com, Lou Webber is offering a "Buy One, Get Two Free" offer on their no upsell oil changes. Customers who are registered at OfferHubb can access the offer on their smart phone or computer to take advantage of the deal.
OfferHubb is the place where No One Ever Misses a Sale and Lou Webber is the best place for hassle free, no pressure service to your automotive needs.
To register as a free customer go to OfferHubb.com to take advantage of this and other offers from great merchants nationally. For information on marketing with OfferHUbb and affiliate opportunities go to OfferHubb.net.