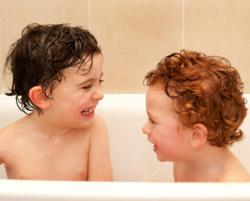 Glendale Heights, IL (PRWEB) June 18, 2013
Bathroom Remodeling company Luxury Bath has made it their goal to improve bathroom safety and the well-being of its users. Research by Luxury Bath has found that every year, roughly 200,000 people over age 15 visit emergency rooms from bathroom related injuries. In raising awareness of National Safety Month, the bathroom remodeling company is releasing five bathroom safety tips for the home.
Bathroom Safety Tip 1: SHOCK AND AWE
Water and electricity never mix, and while some electric appliances in the bathroom are needed, they can lead to electrocution. Good bathroom safety starts by plugging in electrical appliances away from free standing water or water spouts. Avoiding the use of electric appliances near water hazards like the bathtub, shower, toilet, and sink will help avoid electrocution and injury in the bathroom.
Bathroom Safety Tip 2: SLIPPERY WHEN WET
Never leave a bathroom floor damp or wet. For good bathroom safety tips, soak up free standing water or puddles that may accumulate after using the tub, shower or sink. Standing water can make bathroom floors a serious slipping and falling hazard.
Bathroom Safety Tip 3: GO FOR THE GRAB BAR
Nothing says bathroom safety tips like installing a grab bar in the bathroom. Whether thinking about a new bathroom remodel or not, installing a grab bar in the bathroom is beneficial to everyone. Users young and old gain better bathroom safety by avoiding slips and falls while using the tub, shower or toilet areas. To get the most advanced bathroom safety, avoid using weak shower doors and towel racks as an alternative to grab bars. Unlike shower doors and towel racks, grab bars are designed specifically to hold ones weight in the bathroom.
Bathroom Safety Tip 4: KEEP OUT OF REACH
Children are often more prone to accidents in the bathroom. Start improving bathroom safety for children by storing medication and cleaning supplies out of reach. Swallowing or coming into contact with these materials can be hazardous to the all too curious child. Keep these bathroom materials out of sight and out of mind.
Bathroom Safety Tip 5: BRIGHTER IS BETTER
Tripping and falling in the bathroom is bad enough, but having an accident in a poorly lit bathroom is even worse. For added bathroom safety and easier navigation, make sure the bathroom is well lit, and always turn on the light before entering the bathroom. Also consider installing a night light for those evening trips to the bathroom.
For more tips about bathrooms and bathroom safety, visit LuxuryBath.com.
About Luxury Bath
Luxury Bath (http://www.luxurybath.com) has been providing one-day bathroom remodeling updates and ideas since 1991. Supplying over 900 different bathroom remodeling companies across North America, Luxury Bath offers customers new bathroom ideas and provides high quality affordable bath remodeling products.
###