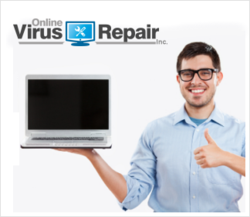 Malwarebytes Anti-Malware proves itself to be the most effective anti-malware solution for the money.
San Luis Obispo, CA (PRWEB) June 17, 2013
There are a number of anti-malware software solutions, ranging drastically in price, and more importantly, the effectiveness. Protecting our computers from the plethora of bad stuff floating around the net is crucial, but we're often misguided by marketing schemes as to which software is really the most effective. The virus removal experts at Online Virus Repair Inc. just finished a real world comparison to find out which anti-malware solution is best suited to protect clients.
Malwarebytes Anti-Malware proved itself against some of the anti-virus giants, such as Norton, Trend Micro, and AVG Anti-Virus. Dan Steiner, President and Security Expert of Online Virus Repair Inc. explains, "The results were impressive to say the least. Malwarebytes is a $25 program with basic malicious website filtering and file-system scanning, but blocked the same malware, and in some cases, better than even the most popular anti-virus solutions."
Steiner stressed that if people want a simple yet powerful tool that will remove even the worst type of malware from their PCs, Malwarebytes Anti-Malware is worth the price. The team at Online Virus Repair has incorporated Malwarebytes into their virus removal service to better protect clients and reduce the risk of reinfection.
Steiner continues to say, "Although Malwarebytes has a free, basic version that will remove malware already in in a person's computer, the premium, $25 version of Malwarebytes provides real-time protection and more, making it well worth the small fee. By allowing Malwarebytes to protect your computer going forward, users will never have to worry about malware again."
Malware is one of the biggest threats on the Web today, and proper protection is ideal. By choosing a functional yet trusted solution such as Malwarebytes Anti-Malware, users will be able to take solace in knowing that their computer is protected by the best.
About OnlineVirusRepair.com
OnlineVirusRepair.com is an American based company specializing in computer cleanups for individual computer users and businesses. The company was founded in 2012 by Dan Steiner and is headquartered in San Luis Obispo, CA. Customers needing virus help can call or chat with OnlineVirusRepair.com technicians to have viruses/malware/spyware removed remotely without the hassle of taking their computer "into the shop." Technicians are able to remotely remove threats even without the client being at their computer - often in 30 minutes or less.