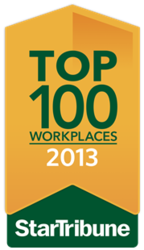 Minneapolis, MN (PRWEB) June 18, 2013
Magenic has been named one of the Top 100 Workplaces in Minnesota based on an employee-based survey project from the Star Tribune. The Star Tribune Top Workplaces special section was published in the Star Tribune on Sunday, June 16 and ranked Magenic sixth among midsize companies. The report can also be found at http://www.startribune.com/jobs/topworkplaces/.
Additionally, Magenic received special recognition as being the company with the Best Senior Management Awareness in Minnesota.
Produced by the same team that compiles the 22-year-old Star Tribune 100 report of the best-performing public companies in Minnesota, Top Workplaces recognizes the most progressive companies in Minnesota based on employee opinions about organizational health, job expectations and employee engagement. The analysis included responses from over 64,300 employees at Minnesota public, private and nonprofit organizations.
The rankings in the Star Tribune Top 100 Workplaces are based on survey information collected by WorkplaceDynamics, an independent company specializing in employee engagement and retention.
"I'm very pleased to know that Magenic is being recognized as one of the Star Tribune's Top Workplaces," said Magenic CEO Greg Frankenfield. "Paul [Fridman, President of Magenic] and I pride ourselves on making Magenic a great place to work."
Star Tribune Publisher Michael J. Klingensmith said, "The companies in the
Star Tribune Top 100 Workplaces deserve high praise for creating the very best work environments in the state of Minnesota. My congratulations to each of these exceptional companies."
Magenic is a privately held custom software development company that was founded in 1995 and is based in Minneapolis, Minn. Magenic is a recognized authority in building enterprise software applications for Fortune 1000 companies using the Microsoft software development platform. Magenic CTO Rockford Lhotka is the creator of the popular CSLA .NET software development framework and is considered a thought leader in software architecture, design and development.
More information about Magenic and its services is available at http://magenic.com or you can call 877-453-1501.
…………………………………
To qualify for the Star Tribune Top Workplaces, a company must have more than 50 employees in Minnesota. Nearly 1,900 companies were invited to participate. Rankings were composite scores calculated purely on the basis of employee responses.