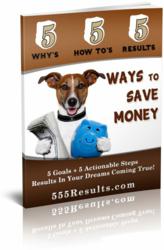 "Imagine having goals written out in every area of your life that's important to you and a roadmap for how to achieve them"
(PRWEB) June 18, 2013
555Results.com has just added 7 more books to their goal reaching self help book series. Ever since Mark Walters, author of the "555 Results Series", was a little boy he's had a connection with the number 5. As the years passed, whenever he saw the number 5, 55, or 555, a phrase would go off in his head saying, "Everything's going to be alright".
He shared this with few, but one person was his longtime girlfriend. This became something they experienced together when one day she told him about a dream she had having to do with the number "555".
She said, "In this dream was a book cover and at the top it displayed the numbers 5 5 5. Under the first 5 was the word, "Why's". Under the second 5 was the phrase, "How-To's". Under the third 5 was the word, "Results"."
She went on to say this was a "How-To" book that would be short, concise, and deal with the exact steps to help people achieve their goals. This book was meant to be read in a short amount of time, absorbed, and put into action so it could bring good results into people's lives.
So the "555 Results Series" actually originated in a dream. Now it's designed to help people reach their dreams in many different areas of their lives. Walters says, "They're 'simple little life guides' designed to quickly align your personal goals with actionable steps, potentially resulting in your dreams coming true".
It's said that people who have goals written out, plus core reasons why they must reach them, have a much higher percentage of success. Even though this is common knowledge, most people don't seem to take the time to write down their goals and motivation for reaching them. "Imagine having goals written out in every area of your life that's important to you and a roadmap for how to achieve them", says Walters.
The popularity of the "555 Results Series" is due largely to each book featuring 5 "Why's" to anchor a specific goal with emotional triggers to attain it, 5 "How-To's" which are actionable steps to help reach the goal, and 5 potential "Results" one might experience once the goal is reached. The brand new books in the series include, "Ways To Save Money", "Make Extra Money", "Say Goodbye To Debt", and 4 others. "Considering the current economy, these titles are coming just in time", Walters said.
Readers interested can stay connected with the series and author as they're now invited to leave posts on the 555 Results Facebook page with suggestions for future topics they'd like to see covered Facebook.com/555Results