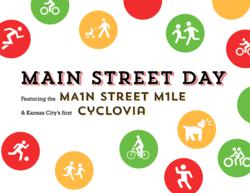 The event will create a great atmosphere for people to think about the potential of one of our city's most important streets. - Diane Burnette, executive director of the Main Street Corridor Development Corporation
Kansas City, MO (PRWEB) June 19, 2013
Kansas City will host its first ciclovia event on Sept. 7, 2013 as part of Main Street Day. A section of Main Street in the midtown area will be restricted to bicycle and pedestrian traffic during the afternoon of the event. The Main Street Corridor Development Corporation/CID and BikeWalkKC are partnering to host the event, which will help Kansas City join the ranks of dozens of cities across the US and Americas that have used ciclovias as a tool to foster community vibrancy and active lifestyles.
"Cyclovia is the perfect event for Kansas City's Main Street, where so much change is taking place," said Diane Burnette, executive director of the Main Street Corridor Development Corporation (MainCor), an organization overseeing the redevelopment of the corridor. MainCor recently led a $10 million streetscape improvement project for most of the corridor.
Cyclovia will be a part of MainCor's Main Street Day festivities, which begin at 11 a.m. with the Main Street Mile run. Main Street, between 34th to 40th Street, will be restricted to bicyclists and pedestrians at noon. Local food vendors, live music, and activities will line the route.
"With no cars, the street will basically become a large open plaza," said Eric Rogers, Executive Director of BikeWalkKC, a local bicycle and pedestrian advocacy group partnering with MainCor for the event. "People will be able to have fun, exercise, and interact literally in Main Street -- a space normally off-limits to those activities."
Kansas City's Cyclovia is based on one that started in Bogota, Colombia in 1972 when that city began blocking major streets to cars on Sundays. (Ciclovia means "bike path" in Spanish.) City leaders there sought to reduce noise and pollution from cars. Bogota's event has since grown to become a sort of weekly street festival, and now more than 70 miles of roadways are designated bike- and pedestrian-only on Sunday afternoons.
Meanwhile, ciclovia-style events have spread to dozens of other cities across the Americas, increasingly to promote healthier transportation alternatives in response to a growing epidemic of chronic diseases related to car-centric lifestyles. In the United States, similar events include Streets Alive in Atlanta, Open Streets in St. Louis, and Summer Streets in New York.
MainCor's Burnette says MainCor and BikeWalkKC were drawn together for this larger event because of their shared goals."We're both interested in improving quality of life of Kansas City, and we'd like to see what Cyclovia on this major thoroughfare can do to get residents and business owners involved in that process," Burnette said. "The event will create a great atmosphere for people to think about the potential of one of our city's most important streets."
Organizers are currently accepting vendor and sponsorship applications. Current sponsors include Buttonwood Art Space, Zimmer Real Estate Services, and Shipley Communications.
About MainCor
The Main Street Corridor Development Corporation (MainCor) is the champion and leading community partner of Kansas City's Main Street Corridor working to support commercial, mixed use and residential progress and effective community, economic and aesthetic development that create and encourage the renewal and vitality of Midtown.
About BikeWalkKC
BikeWalkKC is the unified voice for active living, promoting a healthy, safe and accessible outdoor experience for all in a vibrant, engaged community. BikeWalkKC is a member-supported organization that works to make Greater Kansas City a safer and more accessible place to walk, bicycle, live, work, and play.