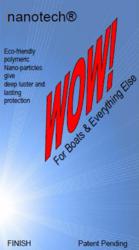 WOW! for boats, automobiles, airplanes and everything else!
Hackensack, New Jersey (PRWEB) June 17, 2013
For the past 3 years, Helmar Distributors has been providing the boating industry and boat enthusiasts with high-quality products that offer top-notch surface protection and impart a glossy finish. Not just relegated to boats and seafaring vessels, Nanotech WOW! products have been safe to use on household surfaces such as kitchen countertops and shower doors, or outdoor tools such as drill bits and saw blades. Helmar Distributors is now pleased to introduce its Nanotech WOW! products for use in the automotive industry.
Formerly only professionally available, Nanotech WOW!'s easy to use, eco-friendly products have been gracing the surfaces of boats, propellers, and even airplanes for decades, so it serves to follow that automobiles would stand to benefit from the remarkable features of this new nanotechnology. Utilizing nano-sized polymeric particles, WOW! is a wax alternative that penetrates at least four times deeper than conventional waxes and polishes, providing long lasting shine and UV protection. It can be used anywhere from truck beds to sunroofs. WOW! can also be employed in auto-detailing, as a water repellant on windshields and as dash and console protection.
As a water-based innovation, WOW! is free of solvents, silicones and petroleum, harsh chemicals and VOCs, making it a "green" product suitable for a wide range of applications.
About Helmar Distributors, LLC:
Helmar Distributors, LLC (http://www.helmardistributors.com) has been an industry leader in environmentally friendly wax alternatives for over 3 years. They offer a variety of products, including pest control and license plate protection and have recently expanded to a national market.
Contact:
Address: Helmar Distributors, LLC, 240 Cedar Ave., Hackensack, New Jersey.
For more information, visit http://www.helmardistributors.com
Email at info(at)helmardistributors(dot)com.