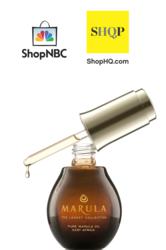 "Ours is a brand that people feel a deep connection to once they learn about our founders and our position that caring for your skin and caring for the planet need not be mutually exclusive."-Cynthia Beesemyer, General Manager
Newport Beach, CA (PRWEB) June 17, 2013
Marula – The Leakey Collection, a new standard bearer of high-quality, sustainable and fair trade skincare, will enter the television shopping retail category with a June 17th launch on ShopNBC (http://www.shopnbc.com).
Adding to its rapidly growing distribution portfolio which includes Sephora stores and boutiques nationwide and in Canada, ShopNBC will offer the brand a chance to educate consumers directly and meaningfully about the unique qualities of Marula – The Leakey Collection, and its compelling brand story, in a way that only television shopping can.
"We are thrilled to have the opportunity to connect with the ShopNBC viewers and tell them our story and what makes our product so special and so superior to our competitors," says General Manager, Cynthia Beesemyer. "Ours is a brand that people feel a deep connection to once they learn about our founders and our position that caring for your skin and caring for the planet need not be mutually exclusive."
Marula – The Leakey Collection will debut on ShopNBC June 17th at 12:00 am ET and June 18th at 9:00 PM ET as part of the network's hour-long Beauty Secret programs. The product is available for purchase on ShopNBC.com for $78.00 (1.69 fl.oz).
About Marula – The Leakey Collection
Sustainable and Fair Trade, Marula – The Leakey Collection holds itself to the highest ethical, social and environmental standards. Only fallen fruit is collected over a vast region to ensure that no area is stripped of this vital part of the ecosystem. No natural habitat is altered and wild harvesting promotes conservation of the trees, which may otherwise be cut for firewood. The only impact on the environment is a positive one. The production of Marula Oil provides rural women with an essential sustainable source of income, a fair living wage with which they feed, clothe and educate their families. Marula trees grow wild in the harshest of environments, possibly why the oil of the Marula nut has been shown to contain 50% more anti-oxidants than Argan oil.
About ShopNBC
ShopNBC is a multichannel electronic retailer that enables customers to shop via TV, phone, Internet and mobile devices and to interact via the ShopNBC website as well as Facebook, Twitter and YouTube. The ShopNBC television network reaches over 85 million cable and satellite homes and is also available nationwide on PCs, tablets and iPhone, Android and other mobile devices via live streaming at http://www.shopnbc.com. ShopNBC's merchandise categories include home, consumer electronics, health & fitness, beauty, fashion & accessories, jewelry and watches. In May 2013, the company announced plans to rebrand to ShopHQ over the remainder of the fiscal year.
Learn more about Marula – The Leakey Collection at http://www.marula.com/.