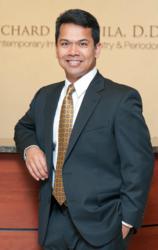 Jacksonville, FL (PRWEB) June 14, 2013
Dr. Richard E Aguila provides patients in Jacksonville safe and effective dental implants. Many people who are missing teeth also suffer from gum disease, but thanks to a new laser procedure, patients with periodontal disease in Jacksonville can still receive a dental implant. This new technology is called Laser Assisted New Attachment Procedure (LANAP). In order to qualify for dental implants, a patient with gum disease must first have the infected tissue cleaned. With LANAP, Dr. Aguila uses a laser to remove the gum disease, which can also help improve bone density so that implants can be placed properly.
Dental implants have been around for many years, but some patients still choose dentures or bridges to replace missing teeth. However, dental implants are now the preferred solution because they last much longer than bridges or dentures and lack the complications that often accompany those alternatives. For example, dentures and bridges can cause several problems for those who wear them, including:

Noisy sounds – dentures often slip and making embarrassing clicking sounds, which can make talking, eating, and even just smiling a difficult chore.
Bone loss – another problem that dentures can cause is bone loss. Because a denture sits on the gum, it will eventually cause bone to weaken and dissipate, which in turn can cause sagging face muscles.
Weakened teeth – a bridge is attached to existing teeth, but those teeth must be ground down in order for the bridge to fit. This takes away from the teeth's natural strength.
Implants function like real teeth and roots and they actually stimulate the bone. This helps to keep the bone thriving and healthy. These implants are made with titanium, which actually melds to a person's jawbone. Titanium is also effective at resisting tooth decay. Implants are generally much more comfortable and enjoyable to wear than dentures. With an implant one can easily talk, eat, and smile with confidence.
Patients in Jacksonville in need of a laser procedure or dental implants can visit Dr. Aguila. Learn more by visiting http://www.laseranddentalimplants.com.
About The Doctor
Richard E. Aguila, D.D.S is a periodontist offering personalized dental care for Jacksonville, FL patients since 2010. Dr. Aguila received his Bachelors of Arts degree in Chemistry and his Doctor of Dental Surgery from West Virginia University. He completed a hospital-based General Practice Residency at the Naval Medical Center- San Diego. He practiced general dentistry in the Navy for six years before pursuing his specialty training in periodontics and dental implant surgery at the Medical University of South Carolina. During this time he obtained his Certificate in Periodontics and Masters in Health Sciences with honors. Dr. Aguila has been practicing periodontics and dental implant surgery exclusively since 2001. He is part of one percent of dental professionals providing the most recent FDA cleared laser procedure for gum disease treatment. To learn more about Richard E. Aguila, D.D.S and his dental services visit his website at http://www.laseranddentalimplants.com and call (904) 638-7980.