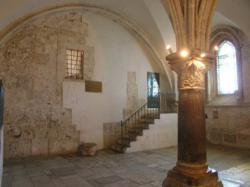 Opening the Upper Room to Catholic worship is 'good news'.
(PRWEB) June 18, 2013
The Cenacle, the building on Mt. Zion which houses the "Upper Room" where Jesus and his disciples held the Last Supper will once again be open for Catholic worship, it has been announced by spokesmen for the Vatican, the Israeli government and the Franciscan Custody of the Holy Land.
The agreement, which is part of overall negotiations over the use of land owned by the church in Israel allows for Franciscan administrative control of the site, while ownership will remain with Israel, according to Fr. Peter Vasko, president of the Franciscan Foundation for the Holy Land (FFHL).
The Franciscan Friars owned the site during the 14th and 15th centuries, but were expelled by the Ottoman Empire in 1550. The Franciscans have sought its return in present negotiations, Vasko said. While expressing disappointment with Israeli ownership, he said, "opening the Upper Room to Catholic worship is "good news." This is especially true for the Franciscans Friars and local and visiting priests as the Cenacle was where Jesus instituted the sacrament of Holy Orders.
Negotiations between the Vatican and Israel began 20 years ago with a "Fundamental Agreement" designed to open the way to Vatican recognition of Israel. Negotiations halted for several years until the United States intervened and talks were resumed in 2004, Vasko said. The current round of talks is the first to be held in two years.
In addition to the Cenacle, other key elements of the negotiations include two churches the Vatican wants to build, and tax exempt status for Catholic Churches. The recent agreement approves tax-exempt status for the churches but specifies that attached buildings such as gift shops and restaurants will be subject to Israeli sales tax.
Negotiations will continue in December, according to the joint announcement.