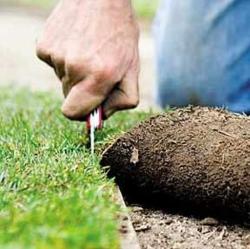 A Slow Start Leads to Steadier Sales Trends
(PRWEB UK) 16 June 2013
TurfGrowers.co.uk (one of the UK's leading turf suppliers) reports a change in seasonal sale trends due to an early easter and prolonged winter.
Director of the large web based turf suppliers commented on how the late spring has affected sales this year. "The week before the Easter bank holiday is usually the busiest week of the year as people get their garden ready for the summer, not this year though, with snow still on the ground in many parts, the last thing on the mind of the public was getting out in the garden".
The company saw a slow start to the year with poor sales throughout March, however sales began to pick up in April and have continued at a steady but strong rate ever since. Although there was no mad rush around the Easter and May Bank holidays, sales have been very good and consistent with overall growth in sales over the period compared to the previous year.
"It is felt that gardeners have taken to the garden at a slower and steadier rate this year spreading sales over a longer period and making the whole process run more smoothly," commented Ben Jackson, Company Director.
Turf Growers are one of the UK's leading suppliers of quality cultivated lawn turf and the website http://www.turfgrowers.co.uk is part of the Quality Garden Supplies Ltd portfolio of garden supply orientated websites. The company supplies turf and topsoil as well as many other garden products nationwide.