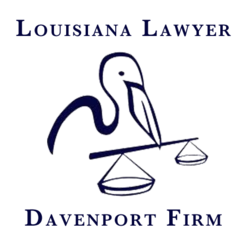 Alexandria, LA (PRWEB) June 18, 2013
While many future lawyers took the LSATS last Monday, it is not too early to start preparing for the October LSATS. The Davenport Firm offers test-takers 5 study tips for the daunting examination.
1.Preparation: Unlike other exams one may have taken in college or even high school, the LSATs are not something that should be crammed for. Allow yourself time to become familiar with test questions, develop a strategy and to recognize your weaknesses in standardized testing. Take time out of each day to study, pacing oneself to avoid being overwhelmed.
2.Analyze practice results: Practice tests are very important to take when leading up to the LSATs. However, to see improvement from test to test, one must analyze the results. Take an in-depth look at mistakes made and evaluate where you made the mistake. This process will also help to identify one's weaknesses for the LSAT. The exam is broken into 5 separate sections with varying question format; therefore it is vital to know which ones you find more difficult.
3.Study one section at a time: Study one section of time for a period of a week or two. Begin with the section that gives you the most trouble and spend time analyzing why you find it difficult. Identify where the easier questions are in the section, most tend to be at the beginning. Develop a strategy around answering those first.
4.Stimulate testing environment: It is important to mimic the test day environment while taking practice tests. One should take the practice test at the same time the real exam would be, typically 9 AM. The practice exam should not be taken in total silence, as there will be other people in the real testing room who will create minimal noise. A similar environment to a testing room could be a study hall or a library. Finally, make sure the practice test is accurately timed. This will recreate the pressure you will feel on test day. Take deep breaths, focus and remember your testing strategy.
5.Never give up! – The Davenport Firm believes this is the most important piece of advice. The LSATS are challenging and difficult, however one should be taking them because you are passionate about becoming a lawyer. Studying for the LSATs can be overwhelming and tiring but, if one works hard you will only reap the benefits.
The Law School Admission Test (LSAT) is a standardized test administered four times a year around the world. Taken by prospective law school students the exam assesses reading comprehension, logical and verbal reasoning. The exam consists of five 35-minute sections and a writing sample. Scores will range from a low of 120 to the high of 180.
For more information on Tommy D. Davenport Jr. and The Davenport Firm, please visit: http://www.davenportfirm.com.
About Tommy D. Davenport Jr.:
The Davenport Firm provides aggressive and effective representation tailored to the particular needs of each of their clients. They have extensive experience in personal injury, criminal defense and family law cases. Davenport's proven record of success and no nonsense approach in handling legal matters makes this firm the firm for all your legal needs. For more information, please visit: http://www.davenportfirm.com/